Selena Quintanilla-Inspired TV Series Set To Come to ABC
The series is currently untitled.
Getty
HOLLYWOOD, CA - NOVEMBER 03: A general view of the atmosphere during a ceremony honoring Selena Quintanilla with a star on The Hollywood Walk Of Fame on November 3, 2017 in Hollywood, California. (Photo by Tommaso Boddi/WireImage)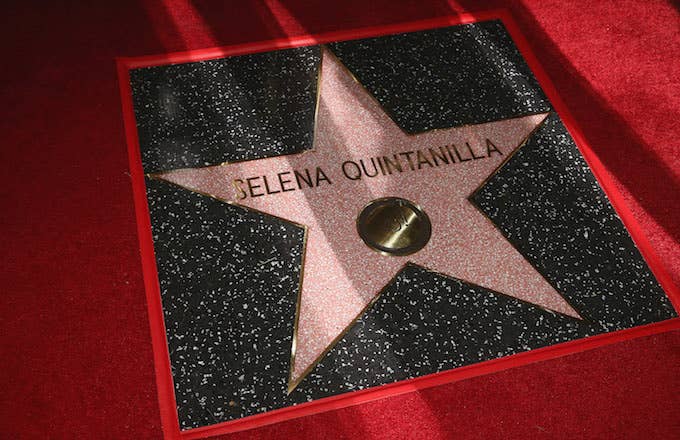 Selena Quintanilla's story is coming to the small screen, well sort of.
Deadline reports that an ABC family drama inspired by the iconic pop singer is set to come to the network as they've signed a deal for a put pilot commitment. Although the untitled series won't be biographical, it has been approved by Selena's father, Abraham Quintanilla, Jr., and sister, Suzette Quintanilla Arriaga, who will also join as producers.
Instead of following the Queen of Tejano music, the series will focus on a fictitious Alex Guerra, who returns to her estranged family after years of massive success in the music industry. The series will also follow Guerra as she navigates a love triangle.
Ok, so maybe this won't have anything to do with Selena's actual story but we're pretty excited nonetheless. Miguel Nolla, who has credits on Scandal, Grey's Anatomy and Private Practice, will take the helm as the series' writer. 
The Mexican-American pop star was tragically killed by her former manager and president of her fan club, Yolanda Saldívar, in 1995 at the age of 23. Her posthumous crossover album, Dreaming of You, broke records by reaching the No. 1 spot on the Billboard 200 chart, marking it the first for a Latin artist. 
Although, there was a Broadway musical based on the singer's life and there were reports of a Selena hologram going on tour, this will be the first time Selena will be portrayed on film since Jennifer Lopez took on the role in the 1997 classic, Selena.
As for the upcoming series, Sergio Aguero, Jaime Davila, and Rico Martinez of Campanario Entertainment are also slated to serve as non-writing executive producers, alongside Scooter Braun, Scott Manson, and James Shin of SB Projects.