The Brooklyn brewery responsible for selling a limited-run pilsner named after Beyoncé has received a cease and desist letter from Bey's legal team. 
The owner of Lineup Brewing, Katarina Martinez, was inspired to pay homage to Queen Bey after being unable to attend one of her concerts. The "Bïeryoncé" pilsner has only been available for purchase since earlier this month, but is now being forced to cease distribution. 
The beer quickly got online buzz for its namesake and label design that strongly resembles Beyoncé's 2013 self-titled album. Martinez told Pitchfork, "We're disappointed she didn't take it as a compliment, but oh well. It was fun while it lasted!"  
If you're a fan looking to make some quick cash over the newest Beyoncé gimmick product, beware. This isn't the first time Bey has shut down the use of her name and image. In 2016, she nixed an Etsy store that was distributing merchandise with the phrase "Feyoncé" on it. The independent company was selling everything from mugs to sweatshirts with the play on words of "fiancé" and "he put a ring on it." 
In another incident as recent as June of this year, Beyoncé's team sent a cease and desist letter to a 15-year-old fan and owner of the unlicensed clothing websites beyoncecapital.com and capitalclothing.net. The fan, known as Ollie, ran a popular Beyoncé fan account on Twitter (@BeyonceCapital) and soon began selling merchandise with his idol's name and likeness online illegally; he was forced to shut down the websites and Twitter account.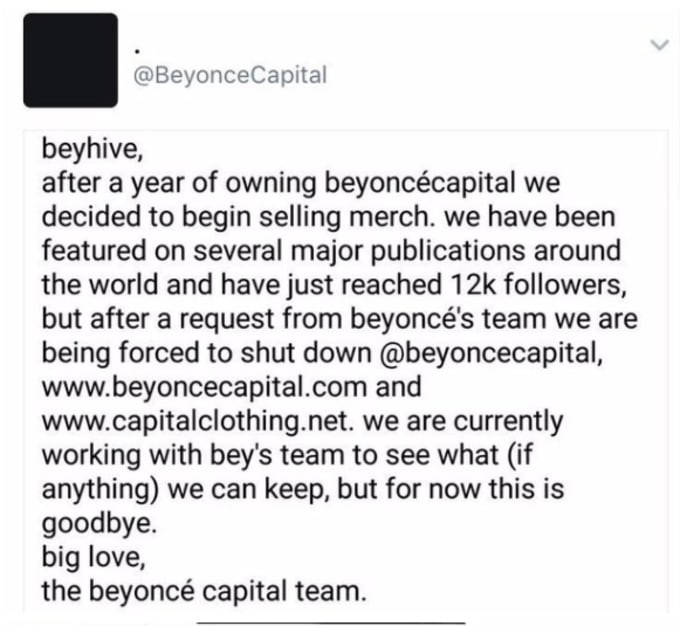 Think you're going to make some coin off of Bey's global slayage and hard work? Think again. Queen Bey remains unbothered, though, she's busy shopping at Target and snatching wigs while posing for elevator pics with the hubby. #IAintSorry.