How do you express your faith? Do you go to church on Sundays, or only on the important holidays? Do you only look to the heavens once in a blue when you feel beaten and battered by the universe? Or do you walk the earth possessed by the faith that everything will work itself out? A belief in that what you can't control will turn out okay is faith, and having faith has nothing to do with religion. We all have our ways of believing; better yet, we all have our ways of remaining positive in the midst of defeat.
I was raised Catholic with super religious grandparents in a bad neighborhood where I did dirt, not really caring for church at all, yet still keeping the faith that I would one day escape my environment. God has been part of Kendrick Lamar's music since the beginning. He's able to acknowledge the hypocrisy in his actions as he tries to live a Godly life, fighting temptation like the rest of us. He called attention to this on To Pimp a Butterfly's "The Blacker the Berry," rapping, "I'm the biggest hypocrite of 2015" before each verse, as he tried to address race relations and inner-city violence in a song that ran less than six minutes. He's ambitious.
In the video for "Humble," the first single from his latest album, Damn, Kendrick appears dressed in papal regalia as he makes it known that he's rap's pontiff-elect. He makes it clear, at many points on the new album, the he believes in the big guy in the sky, and even reveals that he's a Hebrew Israelite on "Yah." He drives this point home at the end of "Fear" with a recording of his older cousin Carl reciting Amos 3:2 as he tells his little cousin that minorities in America are the true lost children of Israel.
The central drama of Kendrick's art isn't a crisis of faith; it's about the crisis of living in the manner God intended, in a world as supremely fucked up as ours. It's a constant struggle, even as the kid from Compton enjoys more wealth and fame, which bring new obstacles and temptations to overcome.
Faith is something you need when growing up somewhere like Compton, or any crime-ridden, impoverished neighborhood for that matter. Religious, hard-working elders have to watch their seeds succumb to the pressures of the environment, so they try their best to instill faith in a higher power in them because they know how hard life can be. Kendrick alludes to this when an elder pops up at the end of Good Kid, M.A.A.D City's "Sing About Me, I'm Dying of Thirst" to make Kendrick and his friends recite a prayer to accept Jesus into their hearts.
I used to take religion and faith for granted as I ran the streets, thinking the world owed me something, equally afraid of success as I was of failing and never making it out. Throughout Damn, Kendrick speaks to the anxiety good kids in mad cities feel on a daily basis. He's done it since he stepped on the scene, and continues to articulate his faith in ways we haven't heard since DMX. Kanye and Chance incorporate Christianity in their music but they don't rap about street shit with the same Old Testament fervor Kenny does.
No one in rap does the juxtaposition of religion and gangsterism quite like this. He's able to tap into the vulnerability ghetto kids feel when they kick up dust in the streets, and then walk into their parent's or grandparent's house as crucifixes, statues of the Virgin Mary, and portraits of a white Jesus follow their every move, as if everything were were.
HBO's recent series The Young Pope tells the story of Lenny Belardo, the first American-born Pope and one of the youngest pontiffs in the Church's history. The 47-year-old former Archbishop of New York, played by Jude Law, is surprisingly conservative in his views for his age, much to the chagrin of the cardinals that helped put him in power.
Those around him try to create a scandal by taking suggestive photos of Lenny with women, and by distracting him as he signs papal orders into law. But the coup comes to a halt when they realize that Lenny is the real deal, performing miracles left and right, dropping to his knees to pray to God at a moment's notice, all while chain smoking cigarettes and, actually, not believing in God at all. "Those who believe in God don't believe in anything," is the stand-out quote from the eight-episode season.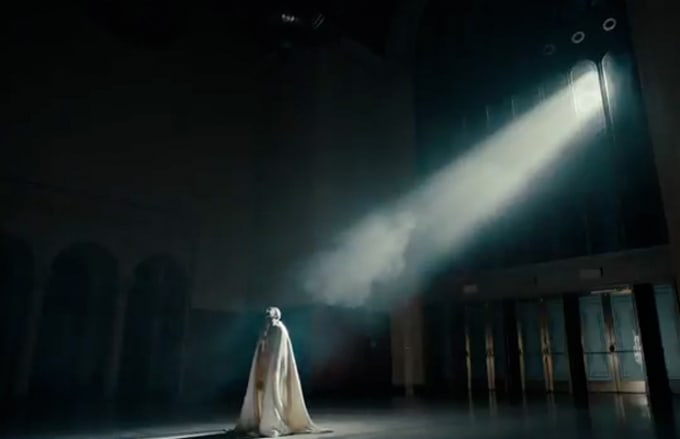 Like all of us, Lenny and Kendrick have complicated relationships with their higher power as they battle factors like their environment, basic human nature, and inner demons. Kendrick is one of the most intuitive rappers to pick up a microphone, and his insights and storytelling abilities heard on his latest project only deepen his powers. But Kendrick doesn't come across as preachy—he's using the faith he has in God to help him cope with the uneasiness that comes with success and fame. It's a belief system that has gotten him this far. Compton was all he knew, by speaking his truth he made it out, and now finds himself at the top of rap's mountain.
"Element" is his mission statement. "You know what happens on Earth stays on Earth!" the honorable Kid Capri screams before Lamar asserts that he's never going back to being broke. His tone calms as the album unwinds, ending with a story of fate that could make any atheist believe in a higher power. Staring 30 in the face, reaching the apex of your career with not only fans expecting the world from you, but your family, friends, and hometown as well—that's where the real pressure kicks in. Family and friends are the first to flip on you when you get on, because mo' money, mo' problems. Biggie ain't never lie.
On "Feel" you can hear the anxiety in Kendrick's voice as he lists all the people and things he feels have been different since his career took off. A summit most couldn't handle due to either competition, their own vices, or some form of misfortune. Kendrick is aware of the stakes and needs some divine intervention if he's going to have the strength to bear the cross he carries. I sat down next to a man preaching from the Bible on the train the other day. There was so much joy in his voice as he told a car full of people: "Keep your head up to Jesus and be patient, for 1,000 years is one day with God. Always look towards the light." As I got off my stop, I pressed play on "Feel." Ain't nobody praying for me.