It's official: Travis Scott is hitting the road this spring.
On Sunday afternoon, the Houston rapper sent out a series of tweets and Instagram posts hinting at a tour called Birds Eye View. Travis shared the event's poster, which featured a flaming skull half buried in sand while birds are seen in the backdrop flying in a lightning storm. The image posted on Twitter has the words "please remain calm" on the bottom, while the Instagram image included the phrase "fear the flock." The latter suggests the tour will feature big-name acts.
The official tour dates for Birds Eye View were revealed on Travis' website Monday. The 24-year-old rapper will kick things off in March and the tour will go through July. In a tweet, Travis Scott called this round of dates "phase 1." If your city isn't listed, there's a good chance it will be for the next round of dates.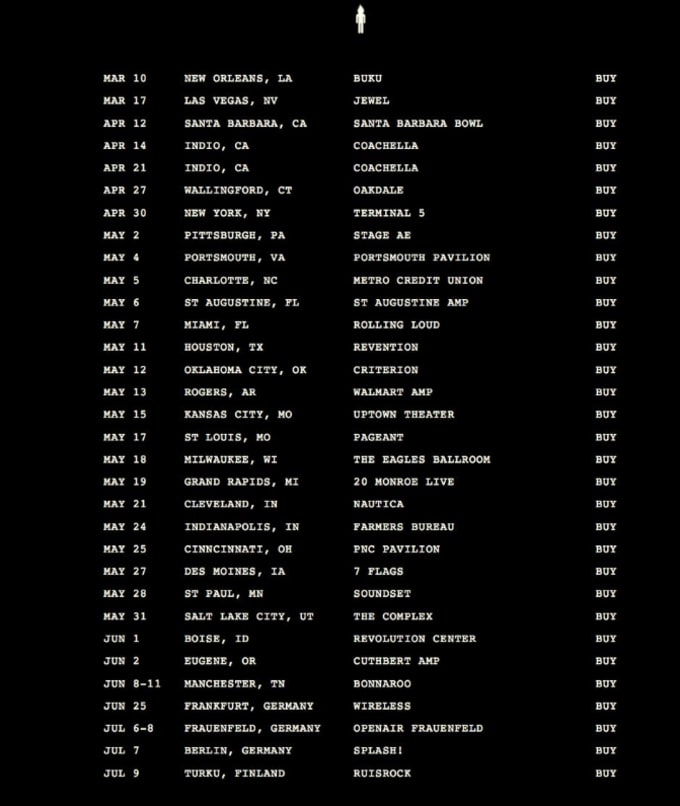 BIRDS EYE TOUR PHASE 1 https://t.co/evVa2vUr9M

— TRAVIS SCOTT (@trvisXX) March 6, 2017
CODE :BIRDS

— TRAVIS SCOTT (@trvisXX) March 6, 2017
You can find more ticket information at TravisScott.com.
On a related note, Travis Scott announced the launch of Cactus Jack Records. "I'm not doing it to have financial control over my music. I want first and foremost to help other artists, launch new names, to provide opportunities," Scott told Numéro. "I want to do for them what happened to me, but better. By better I mean no bullshit. No lying to the artists about album release dates or the budgets of videos and albums."
In late 2016 tweet, Travis promised his fans he would kick off another tour "soon," and also announced his third studio album, Astroworld, would drop in 2017. Now that he's made good on the tour promise, we're crossing our fingers he keeps his word on the long-awaited project. Stay tuned.