In March 2015, Kanye West curated art works for Carine Roitfeld's fashion magazine CR Fashion Book inspired by the publication's "jolie laide" theme—that is, a celebration of unconventional beauty. The collection, titled "Blud Rush," featured works by artists like Richard Prince, Cecily Brown, Paul McCarthy, and Anish Kapoor. Each was distinct to the respective artist, but there was a clear theme: an exploration of the human body. Of course, some of this got very NSFW.
"I am moved by visions that feel very physical, very aggressive—where the body is molded and shaped, twisted, and beaten into existence," Kanye told CR Fashion Book. "Within these works, I locate my affinity for—or maybe my addiction to—the body."
He continued: "My father once said to me that a pornographic image actually tattoos your mind. It never leaves you. It binds to your senses and your psyche. Beauty is pornographic to me, it's a trigger in that same way—a chemical reaction that moves blood in the body. That is powerful. The other joy that's the most pure can only come through God."
The visual for "Famous," which Kanye previewed for outlets including Complex at the historic Los Angeles Forum earlier today, taps into that same obsession. But that's not where the similarities between "Blud Rush" and the video end.
"Famous" is, as the title suggests, an exploration of what it means to be famous. The song's lyrics mostly describe normal people—the ones studying to be real estate agents or attending New York's very democratic Puerto Rican Day parade. The visual works to convey that same normalcy.
The powerful video opens with a camera passing over the nude, static bodies of famous celebrities (Kanye's team did not comment on the legitimacy of the images—that is, whether they're real or imagined). They're crowded onto a massive bed covered in white sheets. Taylor Swift. Donald Trump. Anna Wintour. Chris Brown. Rihanna (whose vocals are featured on the song). Kanye. Kim Kardashian. Bill Cosby. Caitlyn Jenner. George Bush. Amber Rose. Ray J. At the end of the entire video there's a clear image of all the naked bodies lying on a bed in repose. Though Kanye nor his team have confirmed anything, it appears that the bodies used in the visual were very detailed sculptures, though some of them do move at certain points.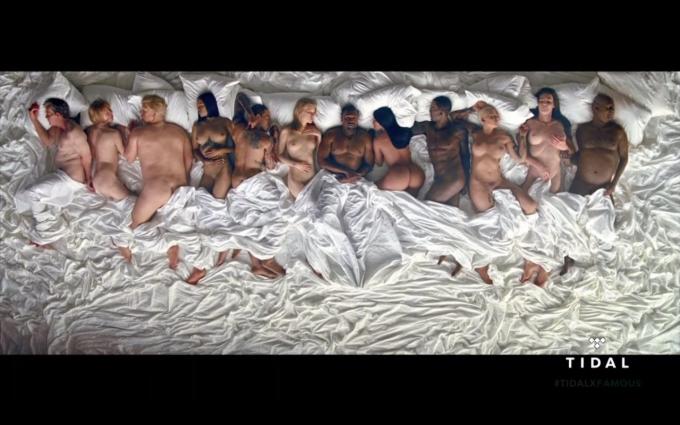 The tableau was inspired by American realist Vincent Desiderio's "Sleep." Desiderio's painting—an ambitious work, eight-feet high and 24-feet long—portrays the naked bodies of 12 anonymous people lying on a bed asleep, or unconscious.
At first blush, both Desiderio's and Kanye's work seem provocative, maybe even pornographic. But there's really no intentional sexualization in either. In Desiderio's work, the bodies are just that—bodies. Nondescript flesh. Similarly, Kanye takes these celebrities—present-day mythological figures, almost—and "undresses" them to say, "Yes, they're also just human beings with bodies." That same "stripping away" can be interpreted in more ways than one. Most of the footage looks like it was shot using night-vision, the way that you would capture an animal or individual sleeping, completely normal—but also in secret.
Kanye was also inspired by religious tableau. Artworks like Leonardo da Vinci's "Last Supper" depicts 12 of Jesus's most trusted disciples seated at one table. Kanye echoes that image by placing different celebrities on one seemingly endless bed to suggest a forced perspective, making visual the idea that we often lump celebrities together, spinning narratives and creative connections that aren't always true or fair.
Kanye's long been interested in art, and "Famous" is yet another example of him melding the musical with the visual. But as familiar as that combination is for Yeezus, the results still have the power to surprise.