The Breaks, a VH1 original movie premiering on Monday, Jan. 4, is a snapshot of the summer of 1990, as seen through the eyes of three friends trying to make it in the nascent hip-hop industry. Nikki (Afton Williamson) is desperate for a job with an artist management firm, David (David Call) is trying to keep rap on the air at the radio station where he works, and DeeVee (Mack Wilds) is a producer trying to find the MC who will help him launch his career.
When VH1 first approached veteran hip-hop journalist Dan Charnas about developing a project for the network in 2013, he didn't have those characters in mind yet. His 2010 bestseller, The Big Payback: The History of the Business of Hip-Hop (New American Library/Penguin), was an expansive overview of rap music's rise from Bronx block parties to a billion-dollar business. Dramatizing decades of history, with the names and stories of so many real individuals, would have been impossible in the space of a two-hour movie, but a fictionalized story about a pivotal moment in hip-hop's growth came with its own risks.  
"You have to create a fictional universe that people will believe, and you also have to create fictional artists, and then fictional music," says Charnas. "I loved shows like The Wire that were able to use fiction to tell the truth. I started to think, 'It's the music that's gonna be the hard part.'" Executive producer Maggie Malina brought in Seith Mann, who had directed episodes of The Wire as well as other revered TV dramas like Homeland and Friday Night Lights, to help create the story and direct the film.
"One of the things that was so great about working so closely with Dan is that he knew intimately about what happened in the period we were looking at," says Mann. "So it was just a matter of working with him to create the scenarios and stories that would ring true but also be dramatically fulfilling."  
Charnas zeroed in on the summer of 1990 as the time frame for The Breaks because it was such a pivotal moment in The Big Payback. "It was the point where hip-hop was gonna live or die," he says. "Hip-hop had reached this point where it was selling lots of records and it was at its maximum cultural diversity. And yet there was this feeling that radio was backing away from hip-hop. Pop radio was only playing MC Hammer and Vanilla Ice. It was like hip-hop was being slowly choked."
To illustrate the crossroads that hip-hop was at in 1990, Charnas and Mann created three fictional rappers for The Breaks. Joe Rock (played by Dean Acree) is DeeVee's first collaborator, whose simple rhyming style is still stuck in mid-1980s Run-DMC flows. D Rome (played by Los Angeles rapper A-F-R-O) is an established star who's sold out to the trendy New Jack Swing sound to keep his flagging career afloat. Ahm (Antoine Harris) is the major talent whom DeeVee finds in a Brooklyn housing project and tries to make into a star to usher hip-hop into the creative renaissance that it experienced in real life. "Think of him as a future Nas or a future Jay Z," says Charnas.
The Breaks needed a hip-hop producer to score the film and craft beats for its fictional rappers, and Charnas had his eye on an old friend who happened to be one of the most revered rap producers of all time: DJ Premier. Charnas met Premo while interning for Wild Pitch Records, the label that released Gang Starr's early singles and 1989 debut album, No More Mr. Nice Guy. In the '90s, while working for Rick Rubin's American Records and overseeing albums by artists like Chino XL, Charnas couldn't afford to hire Premier to do beats. Finally, now, with The Breaks, he could.
"I was excited to do it, because of Dan's respect for and his knowledge of the era we came up in," says Premier. The challenge was to forget all the sounds and styles that have come into rap since 1990 and turn back the clock to produce for that era. So, Premier focused on sounds that were in vogue in the early '90s but fell out of favor in later years, like prominent saxophone and trumpet samples. "We relied heavily on the horn, like the wailing horns on the Public Enemy records," he says. "I listened to artists that were doing that heavy, from Black Sheep to Diamond D, and that got me right back into the groove."
DJ Premier provided original music for over 20 scenes in The Breaks, ranging from his signature boom bap drums to more atmospheric sounds used for a tense, life-or-death moment in the film. "I had some cool music with a bass line, and this funny, weird thud comes every two bars," he says, laughing. "Ain't nobody gonna rhyme to that." A classically trained pianist, John Cleary, worked with Premier on some of the music cues but, Premier says, "Everything else, I played the entire thing myself—drums, to keyboards, to bass."
To craft the lyrics for the film's original songs, Charnas turned to Phonte Coleman, the North Carolina rapper/singer whose group Little Brother gained acclaim in the 2000s for evoking the sound and spirit of '90s New York hip-hop. But it was actually a little-known 2000 side project, The Story of U.S., where Coleman spit lyrics in character as a wannabe rapper who imitates DMX and members of the Wu-Tang Clan, that convinced Charnas of his versatility. "All you have to do is tell Phonte what you're looking for," says Charnas.
"It has to be period appropriate, but it has to resonate with the audience now. You have to be able to hear that these cats were really nice." —Phonte Coleman
Coleman wrote lyrics for Ahm and Joe Rock's original songs, and he also helped coach Harris and Acree as they recorded the tracks in the studio and performed on set. Just as Premier did with the beats, he had to press rewind and write lyrics with flows and slang suitable for 1990. "It has to be period appropriate, but it has to resonate with the audience now," says Coleman. "You have to be able to hear that these cats were really nice." After Coleman's work as lyrical consultant was done, he was called to the set by Charnas one last time, for a comical on-screen cameo as Imam Ali, an Afrocentric MC who performs in a battle rap scene.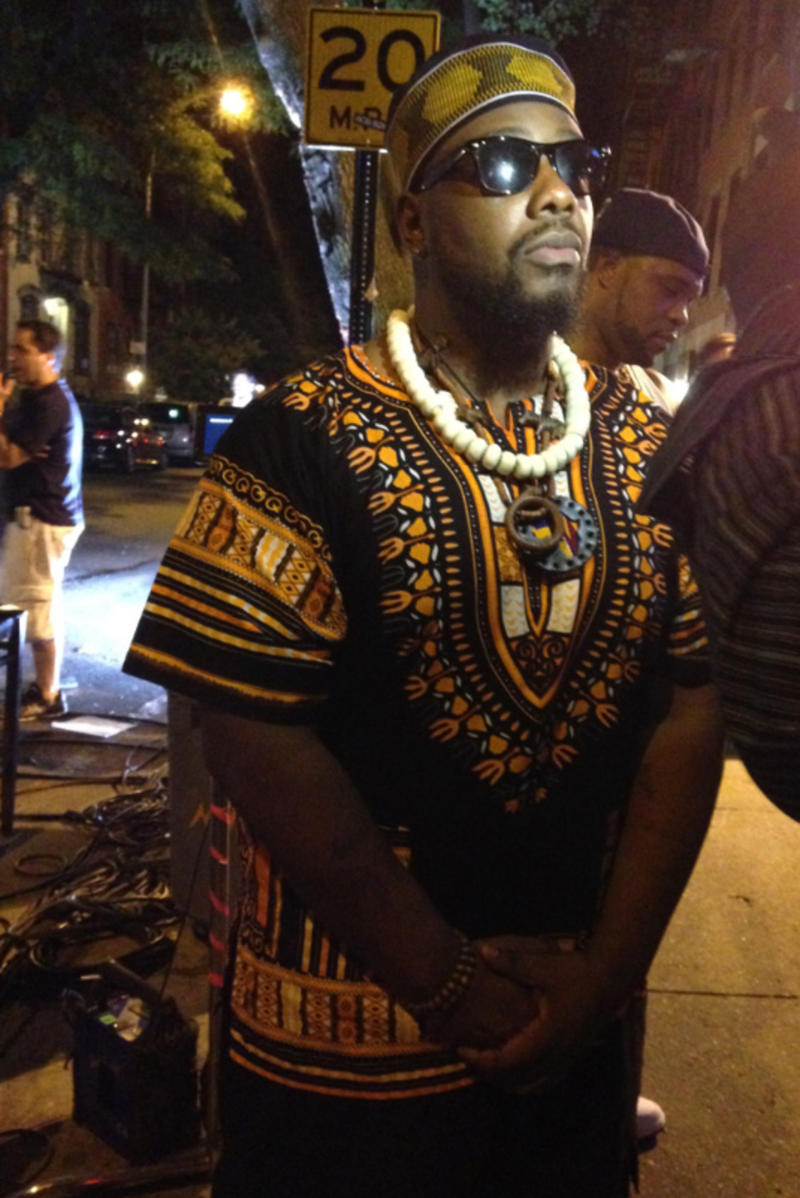 Antoine Harris got the role of Ahm by nailing the audition, which required him to learn and perform the lyrics to Jay Z's "Can I Live." But he still needed a lot of help from Coleman to pull off "Least Expected," the song Ahm records with DeeVee that becomes the turning point of the film. "Phonte wrote the lyrics and sent me an MP3 of him rapping them. A week prior to shooting the movie was my studio week, my music immersion week," Harris says. "But then on the day that we shot the scenes I still had to do it live. I don't even know if they used the studio audio or the live audio. Sometimes on the day, when you're completely into character, it comes out with a different level of emotion."
Having DJ Premier in the studio for his debut as a rapper, of course, was a daunting experience for Harris. "When we were in the studio, and I was in the booth, it was going through my mind that at some point Biggie was in the booth looking out at DJ Premier, Nas was in the booth looking out at DJ Premier," Harris says. "But he's a very cool guy. It was easy to get to that moment. In that moment, I didn't feel like an actor, I felt like a rapper."
While Harris had to convincingly play Ahm as a potential superstar, Dean Acree had a more subtle balancing act as Joe Rock, a mediocre MC whose uninspired demo is played for laughs. "When you're playing a character and it's something comedic, you try to play it as truthful as possible," says Acree, who rapped Slick Rick's "Children's Story" in his audition. Joe Rock's demo ends with a ridiculously long shout-out section, and Acree got the opportunity to throw names from his own life into the track. "I had fun just shouting out random people—old babysitters, old teachers, old girlfriends, the bodega man. It was a blast."
Acree and Wilds share a scene with Method Man, who plays DeeVee's disapproving father. One of the biggest laughs in The Breaks derives from the Wu-Tang Clan member pretending to hate rap, fuming, "You think I wanna hear that noise when I get home from work?" Between takes, however, Acree says that Meth couldn't stop rapping. "It was surreal," he says. "I have never had that much fun on a set before."
Actor/singer Mack Wilds was a natural fit for The Breaks—he was born and raised in New York, and his 2013 hit R&B album, New York: A Love Story, drew heavily on the sound of '90s hip-hop. But he had to develop a new skill set as DeeVee and come across convincingly as a producer and DJ who could work drum machines and turntables on-screen. "I got a chance to get tutelage from DJ Premier, have him try to teach me how to use the SP-1200, and show me how he scratches records, so the scenes of me doing DJ stuff didn't look corny," Wilds says.
In addition to DJ Premier's original score, the film's diegetic soundtrack features countless classic hip-hop songs blaring out of car radios and club speakers, and the crew took pains to make realistic selections of songs that were released in the summer of 1990 or earlier. When Mann screened a rough cut of the film for the cast and crew, DJ Premier even had feedback beyond the musical choices. "There was a police siren that was on our audio track, and he was immediately like 'Yo, that's not a 1990 police siren,'" says Mann. "Everyone brought their knowledge and experience to bear so we didn't have anything that was incorrect in the movie."