To put it mildly, 2015 has not exactly been the year of Tyga winning the general public's widespread adoration. Perhaps the backlash began with his ill-received collaborative album with Chris Brown Fan of a Fan: The Album, or maybe it was a bit later this year when Tyga released the should-have-been-at-least-tolerable The Gold Album: 18th Dynasty to an immediately lukewarm reaction. Even production mastery from Kanye West and Mike Dean couldn't lift the wandering, aimless subject matter from its own trenches of downright sleaziness.
But, hey, maybe that's the point? If the cover art (see above) and tracklist (see below) for Tyga's new mixtape Fuk Wat They Talkin Bout are any indication, that's now the leading theory in the Tyga narrative. In fact, this increasingly layered narrative will now include actual appearances on Keeping Up With the Kardashians, according to esteemed literary journal TMZ: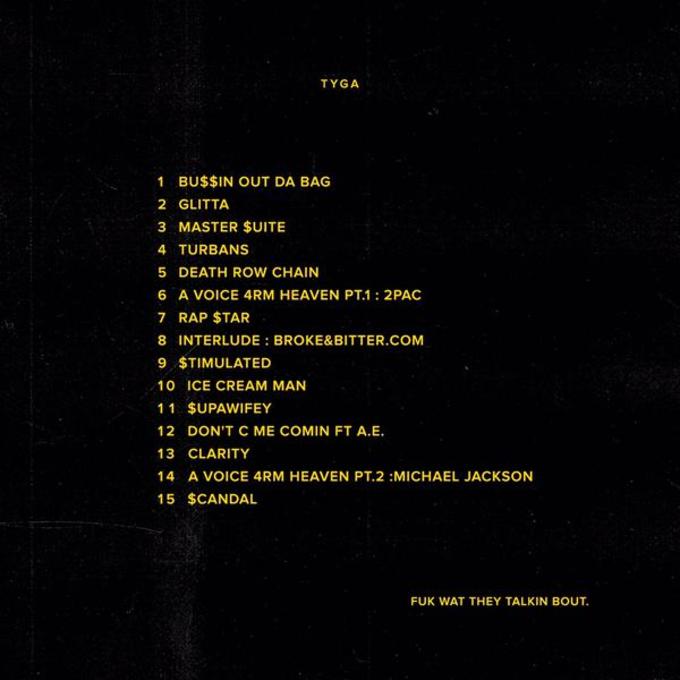 The money-signed Ss are a nice touch, as is the (supposed) skit "Broke&Bitter.com." For the record, should one actually decide to visit Broke&Bitter.com to see if it's a part of some elaborate promo campaign akin to Lana Del Rey's recently announced Honeymoon Hotline, then grave disappointment awaits.
Also, photoshoot tip for the next one? Keep track of your tigers.
BvZHBwcTrNFe2aYBLF9PiieOPeuoQT4A