The center of attention in the conspiracy of Drake's ghostwriting allegations, as fueled by Meek Mill and OG Maco, is an Atlanta rapper named Quentin Miller. But while Miller's name appears suspiciously in song credits for a lot of Drizzy's recent work, it would seem, especially from past interviews, that the Boy has a history of, at the very least, collaborating on his verses with other writers.
First there's Nickelus F, the rapper who helped usher Drake into the game and whom Drake himself cites as a huge influence and one of the reasons he seriously pursued rapping. Soon after Drake's rise, rumors swirled of Nickelus F providing more than inspiration, and during an interview back in 2010 Complex asked him about it straight up.
Complex: Oh, so it's like sometimes you might help write a hook, or if it's part of the verse you might help start off a verse, or write some of the verse?

Nickelus F: Yeah, I've done that. I know the rumor going around. I don't want anything I say to be misconstrued. I helped out, you know. [Laughs].

Complex: So anyone who says, "Nickelus F writes for Drake" would be mistaken?

Nickelus F: Yes. Have I done work here and there? Yes I have. Do I write for him on a regular basis? No. Have I written for him on a regular basis? No.

Complex: But you have written for him before?

Nickelus F: Verses?

Complex: Yeah.

Nickelus F: Yes, I have done a verse. Not a bunch of verses. I have helped out with hooks and one verse in particular. But I don't write no verses for him.

Complex: What was that one verse in particular?

Nickelus F: I don't want to say! [Laughs].

Complex: Was it well known?

Nickelus F: Yeah, it's well known. I don't know if I necessarily want to put that out there. That's my homie at the end of the day.

Complex: Could you say what project it was on?

Nickelus F: Yeah, but it would kind of give it away.

Complex: Wayne spit a Drake verse at the Grammys. People know Wayne writes his shit, just like people know Drake writes his shit. If there's a verse that he spit that's yours, or that you helped him with, it's not going to be like, "Oh my God! Drake doesn't write anything because Nickelus F wrote one verse for him."

Nickelus F: Well, it was on the So Far Gone retail version. I'll just say that much. I don't want to say what song.

Complex: Was it "Fear"?

Nickelus F: No, it wasn't "Fear." I ain't have nothing to do with "Fear." I ain't have nothing to do with anything new that he's working on.

Complex: Are you credited on the liner notes?

Nickelus F: No, I am not credited. Not credited yet. We're working it out though. We talked about it.

Complex: It wasn't anything on "Best I Ever Had" though?

Nickelus F: No, it wasn't anything on "Best I Ever Had."

Complex: "Successful"?

Nickelus F: Nah, I didn't do anything on "Successful."

Complex: "Houstonlantavegas"?

Nickelus F: Nothing on "Houstonlantavegas."

Complex: "The Calm"?

Nickelus F: Nothing on "The Calm?"

Complex: "Uptown?"

Nickelus F: Nothing on "Uptown."

Complex: It's got to be "I'm Goin' In" then?

Nickelus F: [Laughs]. I didn't say that.
Then in a VIBE cover story around the time Nothing Was the Same dropped, Drake spoke candidly about the writing process for "Connect" involving a "poet" named Kenza Samir.
Who helped me write on"Connect" [11] is this girl Kenza. She's a great girl and a phenomenal poetry writer. We just sit together and come up with the best way to say things. [12] Actually, me and her did [the lyric] "love people and use things and not the other way around." It's cool to get another creative mind in there, just someone who's thinking solely about the words and not the melodies and placement. It's nice to read her poetry sometimes, I'll take from that.

[11] "'Connect' was in the air at one point. Because the album is slow sometimes and we were trying to keep the tempo up—maybe we could replace that with something a little quicker. But I fought for 'Connect' because that was one of the most groundbreaking pieces, musically." —Shebib
[12] "When I texted him, 'Isn't it amazing, how you talk all that shit and still we lack communication,' he was like, 'Are you talking to me about me right now or is that for the song?'" —Kenza Samir, poet
Samir is the younger sister of Drake's high school girlfriend Nebby—the same Nebby he raps about in "Look What You've Done" off of Take Care, which, one could assume, is how she started working with Drake. Before deleting old Instagram posts, the two have shared photos of one another on their respective accounts.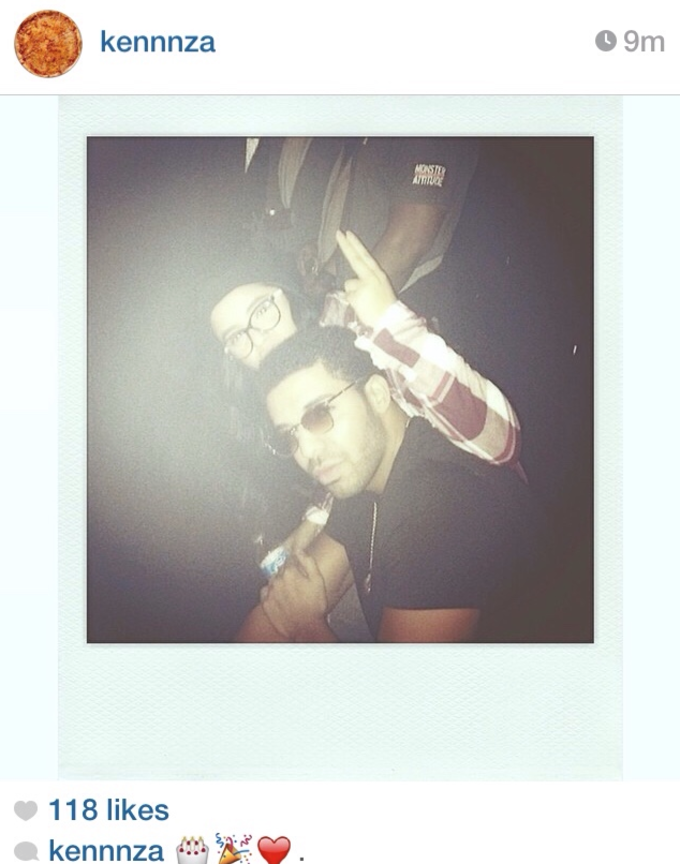 In addition to "Connect," she's credited as a writer on "Make Me Proud."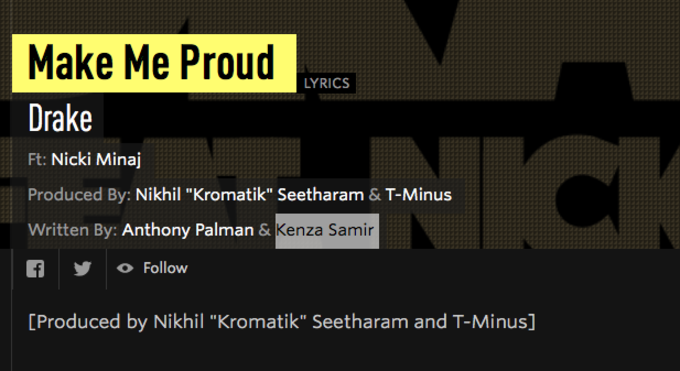 And "Used To" off of If You're Reading This It's Too Late, along with Quentin Miller.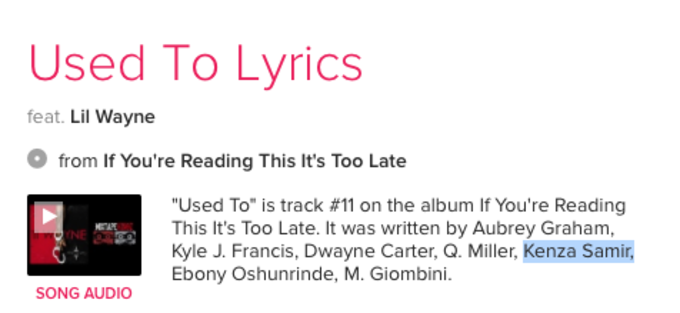 Her name is also in the credits for "Furthest Thing" off of NWTS.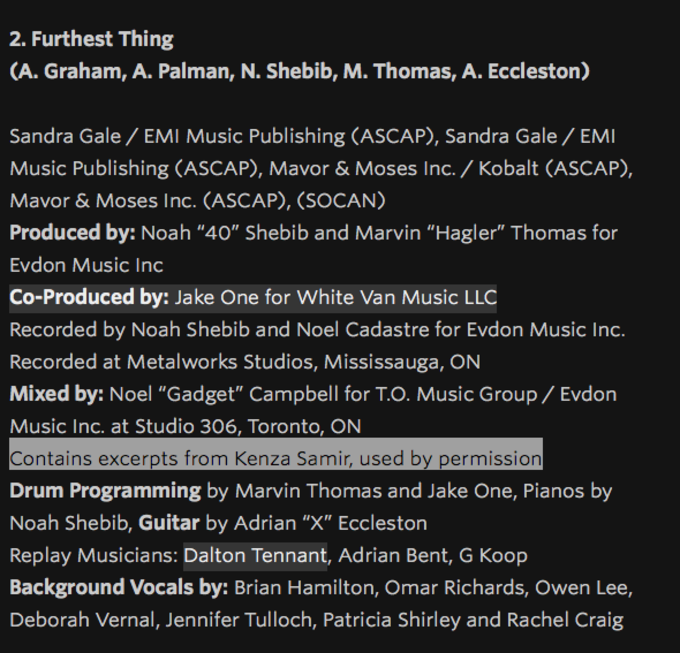 She's also mentioned in several of Drake's thank you notes in physical copies of his albums. In the second half of his note for IYRTITL, he lists her as one of the people who "this tape would not have been possible without." It should be noted though, that in both the Nickelus F interview and Drake's own interview—where he brings up Kenza of his own volition—the writing process is referred to as something of a more collaborative effort. Similar to the way Kanye's creative process has long been known to involve sessions where Consequence or CyHi or whoever will end up suggesting a line or bar as he records that ends up making the final cut, it's quite possible that Drake's raps are indeed, his raps. That's closer to how Drake described it when addressing his rap process and Nickelus F in his 2010 Complex cover story.
Are there other rappers you bounce ideas off of that may give you a line?
Drake: I've done it with three people. You don't want to have clowns in the studio being like, "You should do it like this!" That shit'll get annoying. But when you have a valid opinion around, it takes a lot of the pressure off.

Is one of those "valid opinions" from a rapper named Nickelus F?
Drake: Not really. Me and F worked together at a younger stage in my life, but I can't really say that I all-the-way utilized Nickelus for anything on So Far Gone. F's one of the most gifted people I know at finding flows. I like to write for myself, though. He's helped me before, just not on a consistent basis. But yeah, F is dope.
 
Is he just, as he said in VIBE, working with and accepting help with coming up with the best possible way to say things then giving credit where it's due so everyone gets a piece? If say, Quentin Miller merely came up with "Take a flick I look like Meechy, look like Bleu DaVinci" (the same way Kenza contributed "love people and use things" to "Connect") and then Drake properly credited him, a still up-and-coming rapper, so he could get paid, isn't that noble behavior from an already filthy rich A-list rapper? Or is there a deeper conspiracy at play and one of the game's seemingly most upfront and honest rappers is actually very fraudulent?
Where does the line between collaborating and full-on ghostwriting end and begin?