D Double E was always going to stand out. Rooted in drum and bass and jungle, it was the grime sound that would best marry his sharp wit, frenetic flows, and carefully measured cadences. Earning a status that has never wavered, existing as the scenes deadliest mic man is impressive, but a more remarkable feat is just how D Double E has managed to remain so popular and visible, all the while staying aloof and enigmatic to almost everyone. When granted time with the East End legend, you'd be forgiven for assuming the task ahead would be a chess-like game of extraction.
On the contrary: within his nonchalant demeanour, we found Dee open, focused and passionate when speaking on his life and times of the last two decades. From revealing the likelihood of former Newham Generals comrade Monkstar's return, to imparting advice to the newer generation of MCs, there's a fire inside D Double E that doesn't look like it'll be going out anytime soon. Ahead of the release of "Lovely Jubbly", his new single out on November 24, Complex speaks with the grime star.
Interview by Tobi Oke (@TefTobz)
Photography: Elliot Simpson
---
"Lovely Jubbly" is your new single out later this month on Dirtee Stank. Is it tied to a new project?
It is, but we're not sure when we're gonna release it yet. We're just kinda putting out the singles and checking the response, for now. I'm working on a solo project and a Newham Generals project, and we've got some EPs lined up as well. So, Footise released "Work All Day", now it's "Lovely Jubbly", and after that we'll release a combined single. We're just getting the order together and we'll see how it ends up.
Of these projects you're working on, what are they currently sounding like?
It's all different sounds. I just need to separate the tracks to make an EP or album sound a certain way because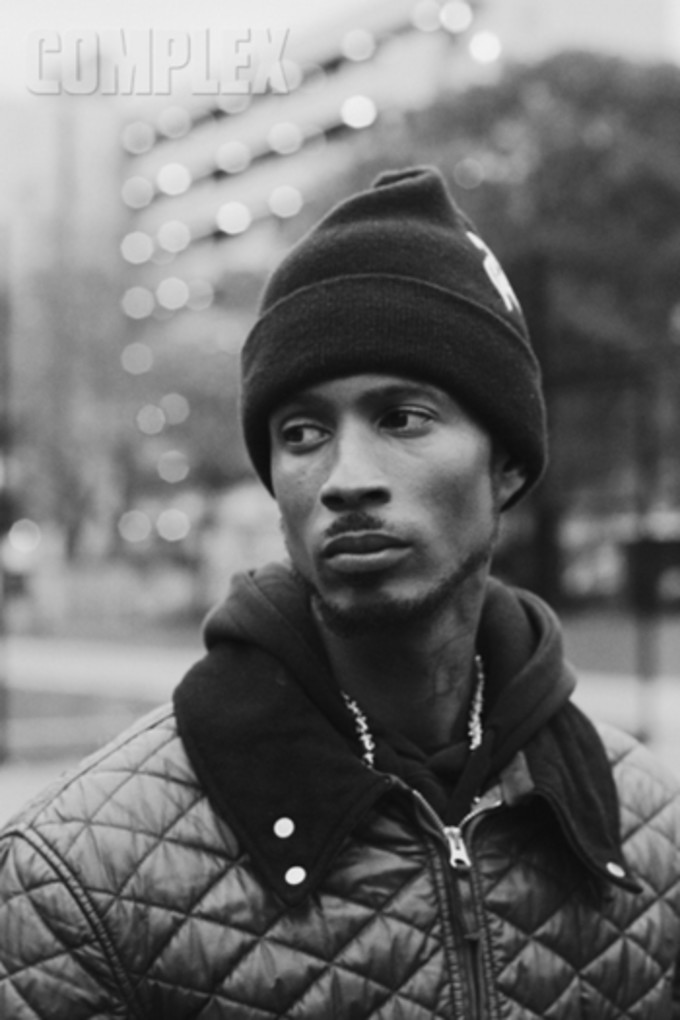 I've gone in different directions. Again, it's just about putting it all together. 
You're an MC who can take the stage, say two ad-libs, and everyone will go absolutely​ nuts! But, what was the reaction to your style like when you first emerged? 
I think the reaction has always been the same. There might have been more problems with people locking into me, but people around me knew what was going on. I think we knew we were ahead of time, so we were okay with what we were doing.
Where did your style originate from?
I dunno, really. I think my energy came from drum and bass. I had a lot of energy, so when I moved over into garage and grime, it was slowed down to me. Somehow, I worked out how to give it the energy, still. Nowadays, the way I've got it on lock—it's just instant [laughs]. ​
What is your perfect set-up for performing on a radio set or at rave? Do you enjoy having other MCs around and passing the mic?
Nah, I like it when I'm in control. That's the best feeling, when I'm there and I'm doing my thing. There's loads of good DJs I'd like to work with; I haven't worked with them enough really. Spyro's definitely a hard DJ I'd wanna work with, or do a show by myself with.  I used to do a lot of shows by myself, before N.A.S.T.Y crew.
In the early days of the grime scene, it seems everyone was up for clashing each other much more easily. You never really got involved with any of it, though.
Back in the day was the time for me to clash and get involved but I think, even back then, people had been looking at me like I was someone who was on another level—even back then! I was turning up to the clashes and watching, but nothing.
I remember you had a brief back-and-forth with Flirta D at Eskimo Dance...
Yeah! I remember. That was out of the blue. I was a bit upset that night and I came there to do my thing and then I hear all these noises over my bars. I didn't know what was going on [laughs]. I just hear beatboxing or whatever noises he does, and I was like "Rah! What's going on?" I just had to leng man down. When I looked back at the footage, I see Wiley there egging him on. Who knows whether he came down to do this ting or whether he was just pushed into it... But I lenged him down, mythed it, and got on with life. Guys know what time it is. 
Off topic, when was the last time you heard from Monkstar? 
I've been working with Monkey for the last two years, but he's more of an engineer now. He works with other artists and his studio's underground, like in a church. It's not like, what's the name of people that sing church music?
Gospel?
Yeah, it's not exactly gospel but he's working with righteous kids from that sort of background. Monkey's shown me beats as well, he's still building beats. This year, he came down to my Bluku Music Boiler Room set and was just chilling at the back; he already told me he wasn't gonna spit though. I think he wants to get back into it, but...
It won't be the same, will it? His content was pretty deep and dark.
That's what I'm saying! It's not gonna be the same kind of bars. It won't be righteous but it will be, slyly. We can't call him for the gyal dem or the shottas tunes, you see it? [Laughs]
If we're talking the newer MCs, they don't seem to have as many original attributes as those of your era. How big of a problem do you think this is?
Yeah, that is a downfall. The only good thing is, it's early in the game and there's a long way to go. These young kids that are just starting out, they get four years in and realise the money's not coming in and then it's about, where does your heart lie now? I was working a job up until I was 22. From when I started spitting at 16 all the way to 22, I had another job. I did go through a phase when I was younger, when I was MCing with people and radio got locked off; they all gave up but I still wanted to spray.
Looking back over your career, is anything you wish you would change?
If I could go back, I would've been a solo artist from the beginning.
Really? No Footsie, Monkey?
Now that they're here, they're like my kids: I love them. But if I could go back, I might not have had them. We still would have had the same connection, but I just feel like I was supposed to be solo and my power shows it—wherever I am. As a kid growing up, you wanna be in a crew because it's more exciting. But if I found an artist who has the potential I had, I'd tell him to go solo too, instead of rolling with a ten-man clique. Right now, we've got good crews that have actual power, but it wasn't really like that back then. So now that things have happened, I would never change it or take anything away... Even when I look back now, the whole N.A.S.T.Y Crew era really helped me realise my powers.