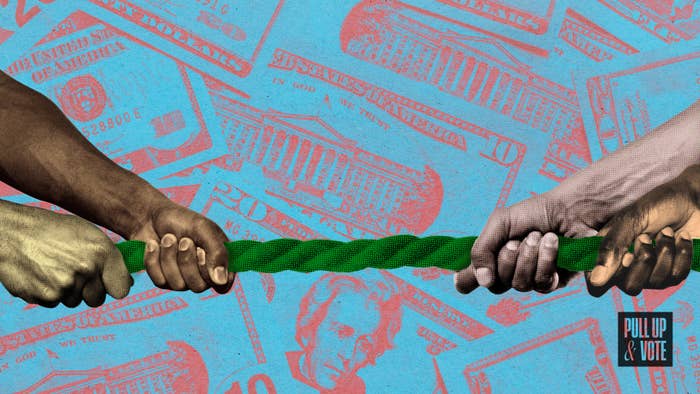 As long as there has been an America, there has been American wage discrimination and disparities. Record keeping only served to officially recognize it. In some cases, abusive factory owners paid women as little as half as they paid men.  In 1890, female factory workers earned 54 percent of what men made, according to economics professor Claudia Goldin's research. 
Women were and continue to be paid less due to a complex web of factors, as well as outright prejudice and discrimination. The fact that many women bear children has led them, over an immeasurable amount of time, into professions where they're paid less. Meanwhile, the amount of work involved in running a household and raising children—the station to which much of society continues to assign women—has never been adequately quantified and accounted for. Women around the world are more likely to work part time, and can even be penalized for motherhood.
Today, women earn 82 cents for a dollar earned by a man, according to the American Association of University Women (AAUW), which translates into about $10,000 a year less in earnings, according to the National Women Law Center (NWLC). Women outnumber men in higher education, and hold nearly two-thirds of student debt and because the wage gap makes it harder for them to pay it back. 
The disparities remain, whether women work in salaried or hourly positions and across the demographic spectrum. The gender wage gap, according to the NWLC, means $23,540 less each year for Black women, $28,036 less for Latinas, $24,443 for Native women, and $6,007 less for Asian women.
There are countless actions that can be taken both at the national policy level and within individual business or communities in order to close the gap. Here, we highlight 10 actions that can be taken now, but the most important thing is to start. 
Raise the minimum wage

The current federal minimum wage is $7.25 an hour, which is 24 percent less than its inflation-adjusted value in 1968. Although there have been some incremental increases in the minimum wage in recent decades, the rise has failed to keep pace with both productivity and purchasing power. The majority of workers in lower-wage professions are women. An increase of the minimum wage to $12 would mean about 30 percent of female wage earners overall would get a raise, more than 37 percent of women of color would see a bigger paycheck, as would more than 27 percent of women with young children, and almost 40 percent of single mothers, according to the Economic Policy Institute (EPI).
Eliminate the tipped minimum wage

Thanks to an outdated system with deep roots in slavery and racism, many if not all of your favorite restaurants are legally able to pay servers as little as $2.13 an hour. So long as their total take-home pay, which includes unreliable tip money that can be stolen and reappropriated, is more than the minimum wage, this law stands. Women account for more than two-thirds of tipped employees, according to the NWLC. 
Guarantee paid sick and leave days

In 2019, New York Senator Kersten Gillibrand introduced the Family and Medical Insurance Leave (FAMILY) Act, which, if passed, would create a national paid family and medical leave insurance program for all workers. Alongside the Healthy Families Act, which would guarantee paid sick leave, women could  have better job security if something as simple as taking care of a sick child should occur. Currently, more than 39 percent of employees work for businesses that do not give them the chance to earn paid sick time. 
Increase the availability and affordability of childcare

Even in places with the most liberal social and economic policies designed to support families, women with children still find themselves paid less than men. Organizations focused on closing the gender wage gap argue that offering quality and partially or fully subsidized child care could help women's earnings match men's. Without quality affordable child care, women might even find themselves cut out of the workplace completely in order to care for children rather than bear the ever-rising cost. 
Restore the right to collective bargaining

Restrengthening American labor unions would not only help women close the gender pay gap, but would also empower them to push for a variety of benefits, including paid sick days, paid family and medical leave, and pensions.  These benefits would help ensure compensation remains equal. While the strength of American unions have been on the decline since the late 1970s, EPI found that, regardless of race or ethnicity, women in unions had a smaller gender wage gap, sometimes by as much as eight percentage points, versus their average non-unionized counterparts.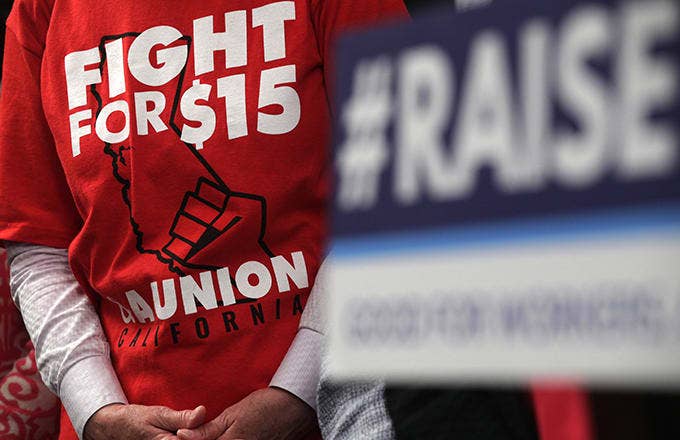 Strengthen existing equal pay laws

When President John F. Kennedy signed the Equal Pay Act (EPA) into law almost six decades ago, women received 59 cents for every dollar a man took home. While incremental changes have been made since then, supporters argue the passage of the more recent Paycheck Fairness Act would help cover the lingering deficits. The bill would mandate businesses offer equal pay for equivalent jobs. As the bill has stalled in the Senate, the liberal Center for American Progress said women have seen the earnings gap increase by $546 billion, since the House passed the novel legislation. The bill would also protect employees from retaliation for discussing pay specifics, limit the use of wage history in hiring, prevent employers from using different locations as a means to pay different wages, and close various legal loopholes that allow pay inequities to persist. 
Stop punishing women for being pregnant

The National Women's Law Center (NWLC) about a year ago outlined the circumstances of a variety of women who, while pregnant, found themselves forced to choose between their own health and that of their baby and their jobs. All of the women were fired and unable to return to work after appealing their terminations. Their cases highlighted just how unfriendly many employers can be concerning women's health. Such challenges also come at a time when families are being flooded with new expenses, further straining them and putting them in untenable situations. The Pregnant Workers Fairness Act, if passed, could clarify certain legal ambiguities and require "employers to make the same sorts of accommodations for pregnancy, childbirth, and related medical conditions that the Americans with Disabilities Act requires employers to make for disabilities," according to the NWLC. 
Don't stop collecting data

In late 2019, the Equal Employment Opportunity Commission (EEOC) said it would halt collecting pay data from large employers broken down by sex and race. The policy stemmed from a 2016 program, initiated by President Obama, aimed at reducing gender and racial pay discrimination. Prior to the EEOC's decision, President Trump had sought to prevent the program's renewal. "The ironic thing is that this proposal is going very much against the broader trend, and the broader trend is towards increased transparency," Jocelyn Frye, a senior fellow at the Center for American Progress who was director of policy and special projects for First Lady Michelle Obama during the Obama administration, told the Washington Post. 
Stricter labor laws and enforcement 

As of October 2019, of 42 states considering new regulations, 11 had passed laws aimed at reducing gender pay discrimination, according to the American Association of University Women (AAUW). The year before, 40 states considered some form of equal pay legislation, with six of them crossing the finish line. The United States Department of Labor offers a breakdown of which states have individual laws and which chose not to go any farther, only following federal legislation. According to the EPI, simply strengthening the enforcement of labor standards and practices could help close the gender wage gap by an estimated $50 billion annually. "The enforcement of labor standards is so weak that hundreds of thousands of employers routinely fail to pay the minimum wage or overtime, expose employees to workplace hazards, don't pay payroll taxes or workers' compensation premiums, and don't provide legally mandated family and medical leave," the organization said. 
Bring undocumented workers into the fold 

Undocumented workers now live in almost perpetual fear and are often at the mercy of employers for whom retaliation, wage theft, or any number of pay injustices would be simple and carry a slim chance of repercussions. Unfortunately, women are heavily represented in professions commonly held  by undocumented workers. Women make up 93.1 percent of in-home workers, who have a high probability of also being undocumented, according to EPI. The organization lauded President Obama's move in 2014 to delay deporting undocumented workers and provide them proper work authorization to help ensure basic workplace protections, higher wages, and an opportunity for them to pay taxes. However, President Trump's administration rolled back many of these protections. "Providing a path to citizenship for undocumented workers will not only lift their wages, but will also lift wages of U.S. workers in the same fields of work," EPI said.
Don't forget that you can do your part by visiting Complex's Pull Up & Vote site—where you can double-check your registration, register to vote if you haven't, and request a mail-in ballot.