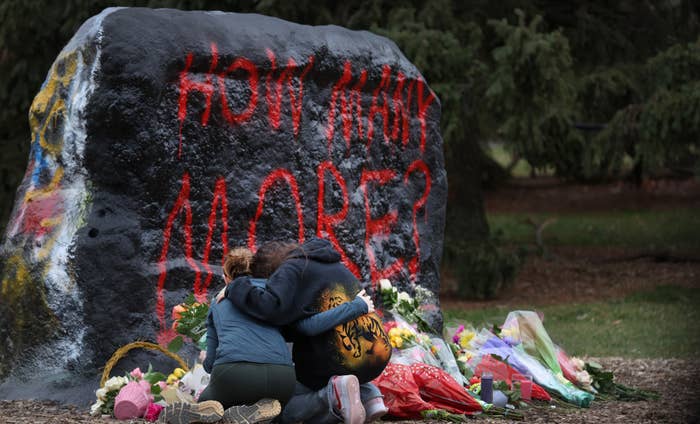 UPDATED 2/14, 6 p.m. ET: The Michigan State University Department of Police and Public Safety shared a statement on Tuesday identifying the three slain students as Brian Fraser, a sophomore, and juniors Arielle Anderson and Alexandria Verner. A portion reads:
"We cannot begin to fathom the immeasurable amount of pain that our campus community is feeling. We want to ensure our community that our department as well as our law enforcement partners will conduct a comprehensive and thorough investigation regarding this tragic incident. Five victims remain in the hospital in critical condition. The deceased victims have been identified as the following:
CBS Detroit's Terrance Friday shared images of the three on Twitter (below), reporting that Anderson "had dreams of becoming a pediatrician," Verner was studying biology and anthropology, and Fraser was studying business.
You can learn more about Alexandria Verner, Brian Fraser, and Arielle Anderson via the Detroit Free Press.
The five hospitalized victims are in critical condition. "Four of those individuals did require surgical intervention," said Dr. Denny Martin, chief medical officer at E.W. Sparrow Hospital in Lansing. "One did not and was taken to the critical care unit after being triaged."
The suspect—who was found dead, evidently of a self-inflicted gunshot wound—was identified as Anthony Dwayne McRae, age 43. "Because of the quick release of photos [of McRae], a caller's tip was able to lead officers to the suspect at approximately 11:35 p.m., only 17 minutes after the release of the photos," the MSU DPPS statement reads.
McRae had "a history of mental illness and carried a note in his pocket indicating a threat to two New Jersey schools," Reuters writes, citing police.
A neighbor told the outlet McRae lived with his father and gunshots were frequently audible from their property. "We'd hear the gunfire all the time, and then it seemed the cops were always down there for something," the anonymous individual said.
MSU Police Interim Deputy Chief Chris Rozman told media hours after the mass shooting, "We have no idea why he came to campus to do this."
President Joe Biden released a statement on Tuesday. "Our hearts are with these young victims and their families, the broader East Lansing and Lansing communities, and all Americans across the country grieving as the result of gun violence. … Too many American communities have been devastated by gun violence," it reads. "I have taken action to combat this epidemic in America, including a historic number of executive actions and the first significant gun safety law in nearly 30 years, but we must do more. The fact that this shooting took place the night before this country marks five years since the deadly shooting at Marjory Stoneman Douglas High School in Parkland, Florida, should cause every American to exclaim 'enough' and demand that Congress take action."
A 21-year-old MSU senior also opened up about the tragic shooting, just over 10 years after she lived through the horrific Sandy Hook Elementary School massacre as a sixth-grader. Newtown, Connecticut native Jackie Matthews, who suffers from PTSD, posted a TikTok video overnight stating she was "currently directly across the street from where the shootings at Michigan State occurred."
"The fact that this is the second mass shooting that I have now lived through is incomprehensible," Matthews said toward the end of her video. "My heart goes out to all the families and the friends of the victims of this Michigan State shooting. But we can no longer just provide love and prayers—it needs to be legislation, it needs to be action. It's not okay. We can no longer allow this to happen. We can no longer be complacent. I'll forever be Sandy Hook strong, and forever be Spartan strong."
In December 2012 at Sandy Hook Elementary, 20-year-old Adam Lanza fatally shot 26 people before turning the gun on himself.
Jackie shared more with ABC 7, saying in the clip above, "I don't think people realize that even the kids in Sandy Hook, the kids from Newtown, the kids from Stoneman Douglas, all of these places—their lives don't stop when these things happen. And the fact that the odds of me being in both of those places for two mass shootings is, unfortunately, not as unlikely as we think it is—for other people as well. And I think that's why I felt the need to make the video: to bring awareness to the fact that enough is enough, and it just—it needs to end."
See original story below.
Police have confirmed three fatalities so far after a shooting at Michigan State University on Monday night. Five additional people were hospitalized, some with life-threatening injuries. Further information on the victims has not yet been made public.
At about 12:30 a.m. Tuesday, MSU Police and Public Safety's Twitter account shared an update alerting the public that the shooter was found dead.
"The suspect has been located off campus. It appears he has died from a self-inflicted gunshot wound," the post reads. "There is no longer a threat to campus and the shelter-in-place has been lifted."
Just over an hour earlier, the account shared a surveillance photo and wrote, "The suspect is a Black male, shorter in stature, red shoes, jean jacket, wearing a baseball cap that is navy with a lighter brim."
Gunshots were first reported to authorities at 8:18 p.m. Victims were found, per NBC News, at "Berkey Hall, an academic building, and there was a second shooting scene at the student union."
MSU Police Interim Deputy Chief Chris Rozman gave his first briefing at 11 p.m., before the suspect was discovered. "We received multiple 911 calls of a shooting inside Berkey Hall," he shared. "Numerous officers responded. We were quickly on scene within minutes. And there we did locate several victims of a shooting."
"We are unsure of any affiliation that the suspect had to the university," Rozman said at the time. He went on to add, "We have absolutely no information about what the motive was and I can't even imagine what the motive may be."
The five hospitalized victims were brought to E.W. Sparrow Hospital in Lansing, the Detroit News reports.
"University police said Monday night that all classes and campus activities would be canceled for the next 48 hours," Reuters wrote, adding MSU's "flagship East Lansing campus accounts for 50,000 graduate and undergraduate students."
The outlet also notes that word of the new tragedy arrives about 14 months after a November 2021 shooting at Michigan's Oxford High School, roughly 80 miles east, where 15-year-old Ethan Crumbley killed four classmates as well as wounding six others and a teacher. He pleaded guilty last fall and is awaiting sentencing.