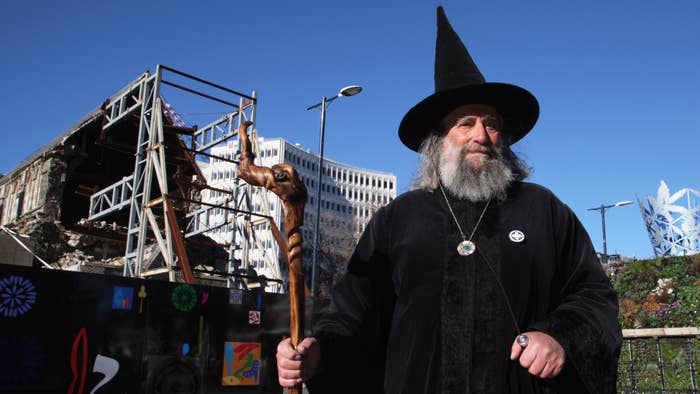 After more than 20 years of service defined as varying "acts of wizardry," Ian Brackenbury Channell—formally known as the Wizard of New Zealand—will soon be off the payroll.
"It's just they don't like me because they are boring old bureaucrats and everyone likes me and no one likes them,'' Channell said of the decision, as reported byThe Guardian. Meanwhile, Lynn McClelland—a spokesperson for the Christchurch City Council—explained in the same report that the Wizard's work would "forever" remain a part of Christchurch history.
Furthermore, McClelland said, the city is now moving toward a new approach to tourism in which the work of the Wizard no longer fits. Per Friday's report, the 88-year-old Channell had been contracted at $16,000 a year for "acts of wizardry and the wizard-like services."

When reached via email on Saturday, a rep for the Christchurch City Council pointed Complex to previously shared comments McClelland, including this explanation on the contract being brought to an end:
"The Wizard has been a part of the Christchurch story and it is a difficult decision to end this contract. The Council is grateful for the valuable and special contribution The Wizard made to our city's cultural life, and he will forever be a part of our history. The promotional landscape in Ōtautahi Christchurch is changing, with new and different promotional [programs] that will increasingly reflect our diverse communities and showcase a vibrant, diverse, modern city that is attractive to residents, domestic and international visitors, new businesses, and skilled migrant workers."
Though not mentioned in the council quotes surrounding this news, Channell is said to have spurred controversy earlier this year in connection with comments he made about women during a New Zealand Today appearance.
"I love women, I forgive them all the time, I've never struck one yet," Channell said during the televised appearance. "Never strike a woman because they bruise too easily is the first thing, and they'll tell the neighbors and their friends … and then you're in big trouble."
Moving forward, Channell said, he still intends to carry on many of his traditional Christchurch appearances and related activities despite no longer doing so in an official capacity.