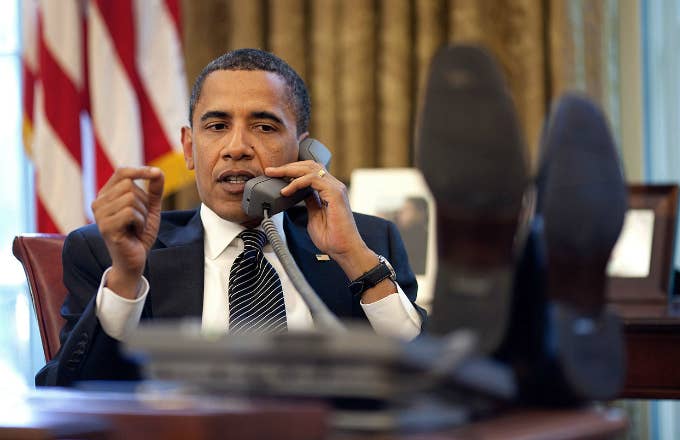 Following the recent swatch of apparent hacks, including the one that resulted in the leaking of 20,000 Democratic National Committee emails last week, the White House has unveiled a plan for combating future security breaches. The fresh policy directive, which Gizmodoreported was inked by President Barack Obama Tuesday morning, establishes a new Cyber Response Group that counts members of the FBI, CIA, NSA, and other governmental agencies in its ranks.
The White House said in a press release Tuesday the government had "made progress" in raising the level of cybersecurity in both public and private sectors but much more needed to be done. "The United States has been faced with managing increasingly significant cyber incidents affecting both the private sector and Federal government," the statement said. "We have applied the lessons learned from these events, as well as our experience in other areas such as counterterrorism and disaster response. That experience has allowed us to hone our approach but also demonstrated that significant cyber incidents demand a more coordinated, integrated, and structured response."
The feds' response to what they adorably call "cyber incidents" will be grounded by five basic principles: shared responsibility, risk-based response, respecting affected entities, unity of effort, and enabling restoration and recovery. But what makes a "cyber incident" something more serious than, say, a mere "incident?" Here's what the White House says about handling "significant" breaches:
A significant cyber incident is one that either singularly or as part of a group of related incidents is likely to result in demonstrable harm to the national security interests, foreign relations, or economy of the United States or to the public confidence, civil liberties, or public health and safety of the American people.
Fair enough. But what we're all really here for is a fresh, bedroom poster-ready schema. Schemas are dope. Here's a new one, via the White House, all about hacks and colors and levels and other fun stuff:
Thank the Flying Spaghetti Monster for this schema. Totally feel so much safer now! But, in all seriousness, having an actual federal plan in place for handling all matters of hacking is a comfort. Peep the White House's full plan here for proper fear abatement.