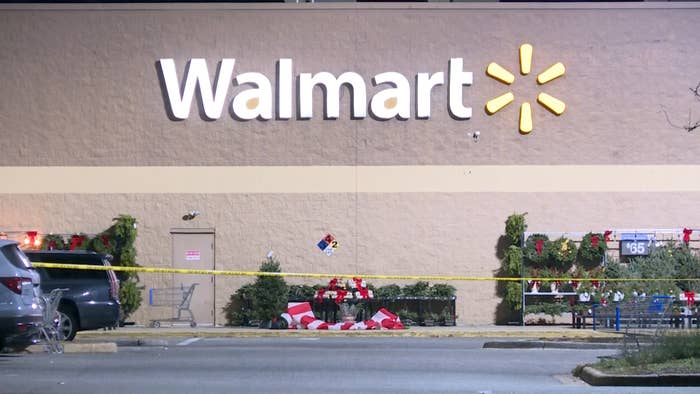 A Walmart employee shot and killed six people inside a Virginia location of the retail chain, local police said during a press conference early Wednesday.
In an initial statement shared to Twitter by Chesapeake city officials on Tuesday night, it was confirmed that Chesapeake Police Department officers were responding to what was then described as an "active shooter incident" at the Walmart located on Sam's Circle.
Mark G. Solesky, chief of police, later confirmed (as seen in the ABC News-streamed video below) that the first emergency call came in to the city's local 911 dispatch center at 10:12 p.m. local time. A little over an hour later, according to Solesky, the scene was "declared safe" by responding officers.
While the investigation into the shooting will continue in the days ahead, Solesky confirmed on Wednesday that six victims had died. Another four victims were confirmed to have been hospitalized, although details on their conditions were not immediately shared. The suspect, meanwhile, died from what police believe was a self-inflicted gunshot wound.
At the time of this writing, the identity of the shooter had not been publicly released. During Wednesday's press conference, Solesky confirmed only that he was used a pistol in the attack. Furthermore, Solesky responded to a question from a reporter about the employment status of the suspect, confirming that the unnamed individual was (as had been reported prior to the presser) an employee of Walmart.
When reached for comment by Complex on Wednesday, a Walmart spokesperson shared the following:
"We are shocked at this tragic event at our Chesapeake, Virginia store. We're praying for those impacted, the community and our associates. We're working closely with law enforcement, and we are focused on supporting our associates."
Complex has also reached out to reps with the Chesapeake Police Department for additional comment. This story may be updated.
Chesapeake Mayor Rick West called the shooting a "senseless act of violence," adding that he was "grateful" for the work of first responders.
In an interview on Good Morning America on Wednesday, one witness to the fatal shooting said the attack had occurred in the store's break room area.
"I looked up and my manager just opened the door and he just opened fire," the witness, identified as Briana Tyler, said.