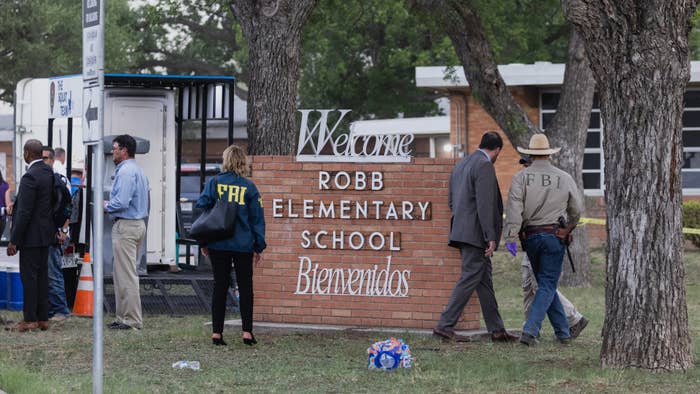 Mere weeks after a domestic terrorist killed 10 people at a supermarket in Buffalo, the U.S. is facing yet another instance of mass gun violence, this time in the form of a school shooting in Texas.
For far too many people in this country, what plays out in the coming days and weeks will bring on a deeply unsettling sense of déjà vu. The Robb Elementary School shooting in Uvalde is said by Education Week to mark the 27th school shooting this year alone.
As more information continues to come in regarding the latest school shooting, we take a look at what is known so far, as well as what to expect in terms of a political response (or lack thereof).
On May 24, 2022, an 18-year-old gunman shot and killed 19 children and two teachers. In a press conference that evening, Pete Arredondo—chief of the Uvalde Consolidated Independent School District (UCISD) Police Department—offered the following:



"At approximately 11:32 a.m. this morning there was a mass casualty incident at Robb Elementary. … The suspect is deceased."
Prior to the shooting, per a report from the Associated Press, the gunman—later identified as Salvador Ramos— is said to have shot his grandmother before leaving the scene and later crashing his vehicle, at which point he entered the school.
Once inside, Ramos is said to have barricaded himself in by locking the door and shooting "children and teachers that were inside that classroom," according to an official with the Texas Department of Public Safety.
Salvador Ramos, 18, was a student at Uvalde High School. Those who interacted with him have spoken out following the shooting, including Jeremiah Munoz, a former student at the school. According to Munoz, per a New York Times report, Ramos sent him a photo of "two black rifles" over the weekend. The photo in question is described as having been similar to one alleged to have been shared on an Instagram account linked to Ramos.
Law enforcement sources have also told ABC News the suspect is believed to have legally bought two AR-15-style rifles just six days after turning 18.
At the time of this writing, authorities were reporting that 19 children and two teachers had been killed at Robb Elementary. While the situation remains fluid, a number of victims have been publicly identified by family in the press.
Fourth grade teacher Eva Mireles (44), per comments to the New York Times from her aunt, was killed, as was fellow educator Irma Garcia (46).
Children reported to have been killed in the attack at the time of this writing—according to reports from the Associated Press and ABC News, as well as regional outlet KSAT 12—include Amerie Jo Garza, Uziyah Garcia, Xavier Lopez, Eliahana Cruz Torres, Alithia Ramirez, Annabelle Rodriguez, and Rojelio Torres.
Other victims were later identified including Ellie Garcia, Tess Mata, Neveah Bravo, Jailah Silguero, Makenna Elrod, Miranda Mathis, Jose Flores, Maite Yuleana, Lexi Rubio, and Jayce Carmelo Luevanos.
As is unfortunately familiar to everyone in the U.S., these acts of violence are often met with a wave of concerned messages from various public figures and celebrities, including repeated calls for those in power to finally bring a united goal of sustaining common sense to their roles in enacting legislation.
More prevalent among such reactions to recent shootings, however, has seen many taking a more transparently exhausted approach by touching on the often futile-feeling aspects of pushing for meaningful reform. Both Chris Evans and LeBron James, for example, used the word "enough" in their initial statements.
Others who have spoken out on Tuesday's shooting include Taylor Swift, Isaiah Thomas, Stephen King, and Matthew McConaughey. 
"This is an epidemic we can control, and whichever side of the aisle we may stand on, we all know we can do better," McConaughey, who calls Uvalde his hometown, said.
Another predictable aspect of these tragedies is the response of politicians. While Democrats and others often associated with pushes for gun safety reiterate those stances, Second Amendment zealots are quick to lay blame elsewhere.
Arizona Republican Paul Gosar, for example, shared a false claim to Twitter in which he described Ramos as "a transsexual leftist illegal alien." The tweet was later removed.
Fellow Republican Ted Cruz, a Texan, took a similarly expected route by calling for more armed officers at schools following the Uvalde shooting.
Meanwhile, President Joe Biden delivered remarks from the Roosevelt Room on Tuesday night, saying gun manufacturers have spent decades using aggressive marketing tactics to push assault weapons on the public. "The idea that an 18-year-old kid can walk into a gun store and buy two assault weapons is just wrong," he said. "What in God's name do you need an assault weapon for except to kill someone?"
Former POTUS Barack Obama also shared a statement, making similar criticisms against a party he says has shown "no willingness to act in any way that might help prevent these tragedies."
Connecticut Democrat Chris Murphy spoke from the Senate floor on Tuesday, demanding that other political leaders step up to take the sort of action that failed to be spurred after the 2012 Sandy Hook shooting.
"What are we doing? Just days after a shooter walked into a grocery store to gun down African-American patrons, we have another Sandy Hook on our hands… Our kids are living in fear," Murphy said, later asking why anyone would run for office only to "do nothing" in response to violence against children.
As Manuel Oliver—whose teen son was killed in the 2018 Marjory Stonemason Douglas High School shooting—explained on Tuesday in an interview with CBS News, it's difficult to care about the words of politicians and other public figures in response to such frequent tragedy.
"It's about money. It's about interests. It's about power," Manuel said, as seen here. "Our politicians, our House and Congress, our senate—they do nothing about this."
A lot of what comes next will feel frustratingly familiar, particularly for families who have been through this in the past. Texas, specifically, is known for being a very firearms-friendly state. And within hours of Tuesday's school shooting, many political leaders in the region were indeed making their usual claims against reform efforts.
In terms of how everyday people can help, however, there are options. The GoFundMe community has united behind a fundraising effort, verified campaigns for which can be found here. Stand With Parkland—a group comprised of Parkland shooting victims' families—also has an extensive list of resources available.