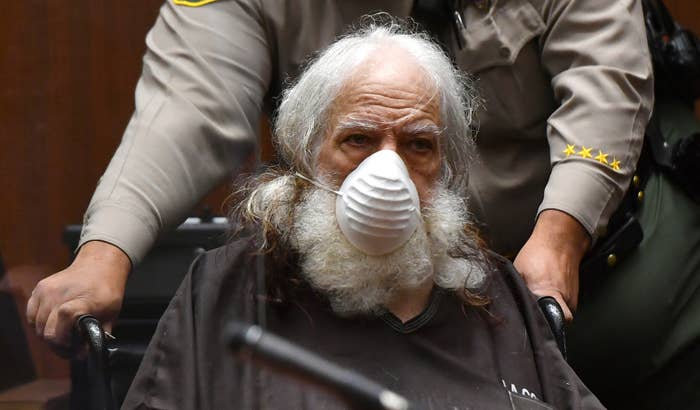 UPDATED 1/17, 11:50 p.m. ET:As anticipated, Ron Jeremy was officially declared mentally incompetent to stand trial on Tuesday in L.A.
Judge Ronald S. Harris said the former adult film actor, who will turn 70 in March, is in an "incurable neurocognitive decline" and that clarity of mind will "most likely not be restorable," per Deadline.
The outlet notes if Jeremy had been tried and found guilty, the sentence could have totaled more than 300 years. He's scheduled for a Feb. 7 hearing about being housed in a state hospital.
"When he was arrested two years ago I said he would be found innocent of all charges," Jeremy's attorney Stuart Goldfarb wrote in an email received by the Associated Press. "Two years have passed and with the additional discovery I received I believed he would have have been found innocent. It is unfortunate due to mental condition he will not go to trial and have the the opportunity to clear his name."
See original story below.
Ron Jeremy is set to be declared incompetent to stand trial, per a new report.
As first reported by the Los Angeles Times, the 69-year-old adult film star—who was initially charged with allegedly raping three women and sexually assaulting another woman in June 2020—has been determined to have "severe dementia." 
The report cites an email from Paul Thompson, Los Angeles County Deputy District Attorney, as revealing that experts enlisted by both sides of the case made the dementia determination. In the email, Thompson says that Jeremy's "prognosis for improvement is not good," meaning he will soon be declared incompetent.
"If he does not improve, we will not be able to try him for his crimes," Thompson said, per the report. "Because criminal proceedings are suspended as long as he is incompetent, we also cannot get a guilty plea from him or discuss other measures to get justice for the victims in this case."
The formal declaration of incompetence is expected to take place during a court appearance scheduled for Jan. 17.
Complex has reached out to the Los Angeles County District Attorney's Office and Jeremy's defense attorney for comment. This story may be updated.
After the initial report of Jeremy's first round of charges, additional allegations against him were made public. In August 2021, the District Attorney's Office announced that Jeremy—born Ronald Hyatt—had been indicted on more than 30 sexual assault counts. On Aug. 25 of that year, Jeremy pleaded not guilty to counts including forcible rape, sexual battery by restraint, and lewd act upon a child under the age of 14 or 15. The latter, per District Attorney George Gascón, stemmed from an alleged assault of a 15-year-old girl in 2004.
"Far too often, survivors of sexual assault suffer in isolation," Gascón said at the time. "We must ensure that survivors have all options available to help with recovery, including trauma-informed services for healing and support to report such crimes."
Jeremy has repeatedly denied the allegations against him.