UPDATED 9/14, 7:15 a.m. ET: Ryan Graves, a former F-18 pilot for the U.S. Navy who was in attendance at the Mexico hearing, has spoken out about the experience.
According to Graves' comments, an invitation was extended to him following his participation in the Unidentified Anomalous Phenomena: Implications on National Security, Public Safety, and Government Transparency hearing in front of a House Oversight subcommittee in July. Per his initial understanding of the invitation to testify before Mexico's Congress, Graves said, the aim was to "keep up the momentum of government interest."
However, Graves now believes the Mexico hearing amounted to an "unsubstantiated stunt" that (as touched on in our original report) only hurts the larger UAP issue.
"Unfortunately, yesterday's demonstration was a huge step backwards for this issue," Graves said on Twitter after the Mexico hearing. "My testimony centered on sharing my experience and the UAP reports I hear from commercial and military aircrew through ASA's witness program. I will continue to raise awareness of UAP as an urgent matter of aerospace safety, national security, and science, but I am deeply disappointed by this unsubstantiated stunt."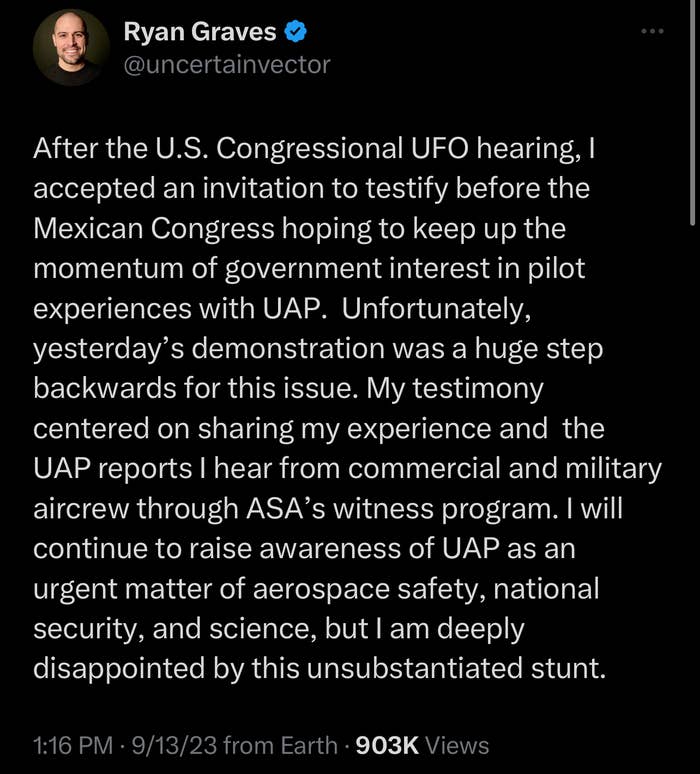 Graves is a respected figure in the UAP community whose presence in the growing mainstream discussion on the issue has been a prominent one in recent years. Revisit his aforementioned July testimony in full here.
See original story below.
A previously debunked ufologist testified under oath in Mexico's Congress this week about purported "non-human" bodies.
The individual in question, Jaime Maussan, pointed to "extraordinary conclusions" about the bodies, which NewsNation reports were alleged to have been found in Peru in 2017. The two bodies boast elongated head shapes and are further alleged to be 700 and 1,800 years old. Additionally, the bodies are reported to include just three fingers on each hand.
Maussan, as seen in the video above, said the bodies are of "non-human beings." Citing what he says were the findings of researchers from the National Autonomous University of Mexico, Maussan said the bodies are "not part of our terrestrial evolution."
Despite the (understandable) level of attention given to the Mexico hearing, which also saw Maussan discussing DNA testing, the bodies at the center of it all have been compared to a prior debunking involving mummies.
In June 2017, the fact-checking website Snopes mentioned Maussan in an explainer in which the alleged discovery of a "three-fingered alien" in Nazca was deemed false. Specifically, the explainer pointed out that Maussan displayed a mummified body at an event in 2015, alleging it was an alien corpse. Later, that body was determined to actually be a deceased human child. CBS News notes that the bodies in this week's Mexico hearing are not believed to be from the 2015 incident, though Maussan's track record has brought them into question.
Key in these cases, and also seen in this week's Mexico hearing, is the focus many (again understandably) tend to put on the aforementioned elongated head shape. However, researchers have long pointed to the practice of skull modification as a potential cause for the confounding-in-retrospect look.
While some have started running with headlines that would have readers believe the bodies in this week's Mexico hearing have been definitively proven to be alien corpses, we must all be extremely careful—regardless of our personal hopes and desires regarding the increasingly mainstream discussion surrounding UAPs (f.k.a. UFOs) and related developments—to only put forward information that is as close to factual as possible.
As of Wednesday morning, a Community Note had been added to a viral tweet about the Mexico hearing, calling the claims "a hoax and a fraud."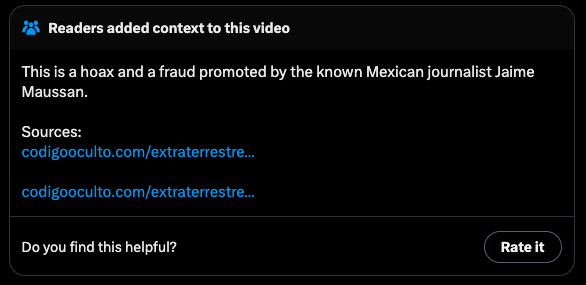 For the UAP issue, it's imperative to not let potentially questionable claims grab too strong of a hold on the public's attention as this could only hurt the larger cause in the long run. To that end, there's plenty to be cautiously excited about regarding this ongoing breakthrough moment for the larger push for disclosure.
There is no longer any question at all, for example, as to the existence of truly unidentified phenomena and governmental forces' concerns. In the U.S, for example, the past few years of UAP-related developments have sprung out almost entirely from widely cited footage first shared thanks to the work of Tom DeLonge's To the Stars operation. Those videos were later acknowledged and confirmed by the U.S. Navy and the Defense Department to be legit, thus vindicating a career-long mission for DeLonge while also opening the doors to the near constant stream of UAP updates we've experienced in the years since.
Earlier this year, I spoke with To The Stars co-founder and current VP of Operations Jim Semivan, who said that it's clear in the U.S. that congressional leaders "finally got the message that UAPs are indeed real." Semivan, a former member of the CIA's Senior Intelligence Service, also expressed optimism about the growing number of scientists and researchers contributing their insight on the issue.
"We are on the right path," Semivan said at the time.