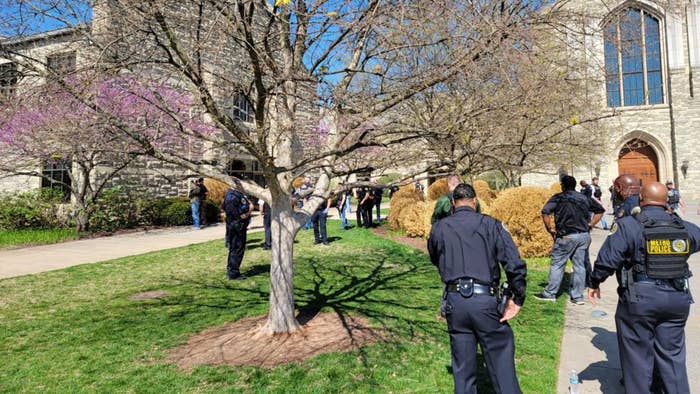 Three 9-year-old students, three adult staff members, and a 28-year-old suspect are dead following a school shooting in Nashville, Tennessee.
The shooting occurred Monday morning at the Covenant School, a private Christian institution in the Green Hills area of the city that serves just over 200 children ranging in age from preschool to sixth grade.
When reached for comment by Complex on Monday, a Vanderbilt University Medical Center rep confirmed that three children and two adults taken to the hospital had died. "All five patients have been pronounced dead," the spokesperson told Complex.
In a prior update, the Metro Nashville Police Department said that the shooter had been killed. At a press conference early Monday afternoon, Nashville police confirmed one additional adult staff member fatality.
The victims are 9-year-old students Evelyn Dieckhaus, Hallie Scruggs, and William Kinney, as well as Cynthia Peak, age 61, Katherine Koonce, 60, and Mike Hill, 61.
Police first received a call about an active shooter inside the school at 10:13 a.m. local time. Upon arrival, officers entered the first story of the building and started clearing the scene. Hearing shots coming from the second level of the facility, they moved to that area and engaged the shooter. The shooter, described at the first press conference as a woman who "appears to be in her teens," was fatally shot by responding officers. The assailant was armed with two assault-type rifles and "at least" one handgun, police said.
Authorities identified the shooter as 28-year-old Audrey Hale, a former student. Nashville Police Chief John Drake said preliminary findings indicated a targeted attack, which was further supported by the discovery of "a manifesto" and detailed maps of the building.
"We've also determined there were maps drawn of the school in detail of surveillance, entry points, etc. We know and believe that entry was gained by shooting through one of the doors, is how they actually got into the school," Drake said.
The New York Times wrote that "there was confusion about the gender identity of the assailant in the immediate aftermath of the attack." The paper continued, "Officials used 'she' and 'her' to refer to the shooter, and Chief Drake said that the assailant identified as transgender. Kristin Mumford, a police spokeswoman, said that the shooter had been born female but listed male pronouns on a LinkedIn profile, which suggested that the suspect was a transgender man."
A former Covenant School headmaster told NBC News he remembered Hale as a student in third and fourth grade from 2005-06.