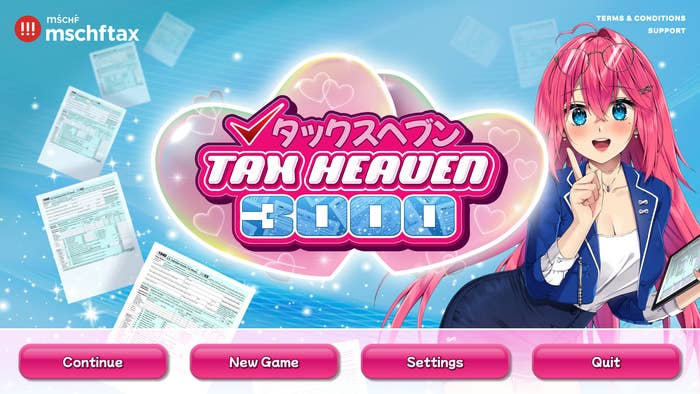 The Tax Heaven 3000 era will soon be upon us.
The project, the latest commentary-as-art drop from MSCHF, launches via this site on April 4 at 2:00 p.m. ET and is described by its makers as "a visual novel dating game" that doubles as a way to prep an income tax return. The experience is also hitting Steam, as seen here.
In short, players of the dating gaming are tasked with romancing a character named Iris. The character, pictured below, simultaneously helps with financial matters as the game (available for Mac and Windows users) progresses.
"It's always been a dream of mine to meet that special someone…and file their tax return," a statement credited to Iris reads in the project's press release. "Join me and we'll search for deductions while searching for love!"
Deeper into the press release, additional information (also credited to Iris) is provided, namely:
"And remember If you die in the game you die in real life If you file your taxes in the game, you file your taxes in real life."
Get a look at the game below. A collector's edition of Tax Heaven 3000, complete with an Iris-inspired body pillow and a physical game box (and more), is set to retail for $90. For additional information, you know what to do.