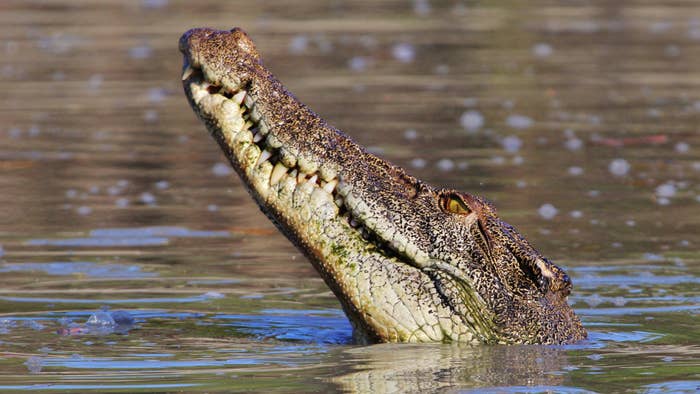 A snorkeling enthusiast who lived through a near-fatal encounter with a crocodile is telling his story of survival.
Marcus McGowan, per a news release from Australia's Queensland Government Hospital and Health Service, was snorkeling with his wife and several friends off the Cape York Coast when he was "attacked from behind by a saltwater crocodile."
The croc, McGowan recalled, was able to get "its jaws around my head." Initially, the man was under the assumption he had found himself inside the mouth of a shark.
"I thought it was a shark but when I reached up I realized it was a crocodile," he said. "I was able to lever its jaws open just far enough to get my head out."
At this point, McGowan noted, the croc in question made a second attempt at doing what crocs occasionally do to humans. McGowan, however, was this time able to simply "push it away" with one hand, only to have that hand bitten.
"I was able to escape the crocodile's grip once again and swim to the safety of the boat which was coming after they heard our screams for help," McGowan said, adding that he estimates the croc was roughly between six and nine feet in length.
McGowan added that he was swiftly treated for scalp lacerations and puncture wounds to his head and hand after the croc encounter. As an avid appreciator of the aquatic experience, he noted that he is always aware of the inherent risks of such activities due to the fact that these environments do indeed belong to "potentially dangerous" creatures of all varieties.
In fact, it sounds as though McGowan has no anger over what transpired.
"I was simply in the wrong place at the wrong time," he said.
The Queensland Government Department of Environment and Science has issued a separate statement on the incident, which is said to have occurred on May 27. Per the department, the encounter is currently the subject of an ongoing investigation. In the same statement, the department also reminded those in the region to always practice what it calls "Crocwise behavior."