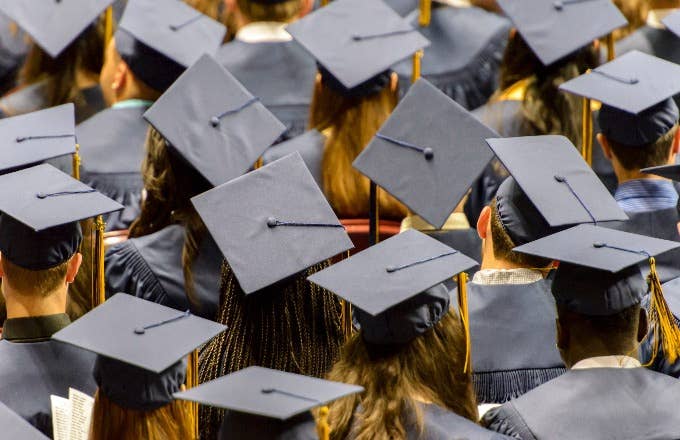 UPDATED 3/13, 6:49 p.m. ET: After turning herself in on mail fraud charges Wednesday, Full House star Lori Loughlin appeared in Los Angeles federal court and was released on $1 million bond. Variety reports the 54-year-old actress will also face charges in Boston federal court March 29.
"The judge specified that she would be allowed to speak to her daughters and husband about the charges, but to no one else connected with the case," the outlet reported.
As part of the same college admissions fraud investigation, actress Felicity Huffman was taken into custody and released on $250,000 bail on Tuesday.
See original story below.
Unsealed court documents have let the public in on a massive college entrance exam cheating scheme in Boston.
The plot is alleged to have revolved around securing the admission of students to major universities as recruited athletes "regardless of their athletic abilities" and assisting prospective enrollees with exam cheats (i.e. SAT and ACT), per an NBC News report filed Tuesday.
Affected universities allegedly include Stanford, Georgetown, UCLA, and Yale. Among the dozens of people named in the indictment are multiple coaches, as well as Felicity Huffman and Lori Loughlin. Huffman and husband William H. Macy are alleged to have given a "charitable donation of $15,000" to participate in the scheme on behalf of their oldest daughter. Macy, however, is not listed in federal documents as among those hit with a charge. Loughlin and husband Mossimo Giannulli are accused of agreeing to "pay bribes totaling $500,000" in exchange for USC crew team designation, which was aimed at ensuring institution acceptance. Giannulli is named among those hit with charges.
As for Macy's omission from the list of charged alleged participators, deeper dives into the court documents show a possible reason why. PerPage Six, Macy and Huffman allegedly declined to pay up $15,000 to boost their younger daughter's test scores. Prosecutors have also reportedly not spoken of evidence on Macy, i.e. email communications or phone records, prior to a December 2017 SAT exam.
Huffman was among those taken into custody Tuesday morning. Though initial reports added Loughlin to that assortment, she was reportedly not in the Los Angeles area Tuesday morning when federal officials showed up at her home.
The alleged scam is further described by federal investigators as a "nationwide conspiracy that facilitated cheating." Per documents, the majority of allegedly affected students had no knowledge that the scheme was in play. Other charges scattered across the newly revealed documents include conspiracy to commit racketeering, money laundering, and obstruction of justice. All told, millions in bribes are alleged to have been paid out.
One alleged method of bending exams in the prospective students' favor, as detailed in the FBI's complaint, involved securing extended time for them to complete tests in "an individualized setting." From there, bribed test admins would let a third party either proctor the proceedings while giving out correct answers, add correct answers after completion, or take the exam in the prospective student's place. Of those charged, 33 of them are parents to students or prospective students. In a press conference Tuesday, federal investigators characterized them as a "catalog of wealth and privilege."
William Rick Singer, founder of a college prep business in Newport, is alleged to have been the brains behind the operation. Singer's charges include racketeering conspiracy, money laundering conspiracy, conspiracy to defraud the U.S., and obstruction of justice. He is expected to plead guilty Tuesday afternoon.