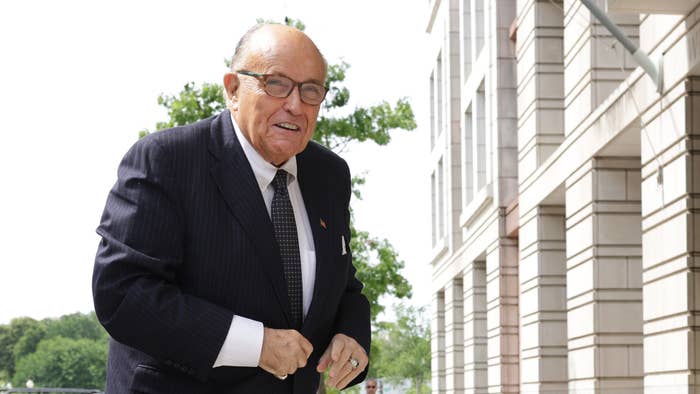 New York mobsters are reportedly "thrilled" to hear about former NYC mayor Rudy Giuliani being indictment alongside Donald Trump over criminal conspiracy to overturn the 2020 election results in Georgia.
In an interview with The Messenger, veteran mob lawyer Murray Richman said that he's spoken to "several clients" following the RICO indictment—which names a further 17 co-defendants including the artist formerly known as Kanye West's former publicist Trevian Kutti—and they're very happy about the news. "You can quote me to say, 'They're fucking thrilled," said Richman. "I don't want to say the language, but they really ripped Rudy a new asshole."
In 1985, Giuliani famously indicted eleven major organized crime figures on RICO charges when he was the United State Attorney for the Southern District of New York. He said his plan was to "wipe out the five families," which refers to the five Italian American Mafia families that operate in NYC. He was later elected mayor of NYC after leading a campaign in which he promised to be "tough on crime."
"Half of these guys love Trump. They freaking love Trump," Richman added. "But all of them are almost unified in their position of hating fucking Rudy."
Defense lawyer Jeffrey Lichtman, who represented John "Junior" Gotti in 2005, said, "All of my clients who had the misfortune of being prosecuted by him are laughing now. As am I." Lichtman continued, "I'm thrilled that Rudy will now experience what it feels like to be on the wrong end of a RICO prosecution—with a mandatory five years in prison facing him. It's not just an ironic result but it's a just result. He was a horribly dishonest prosecutor and the wheel of karma is about to crush him."
Civil rights lawyer Ron Kuby, meanwhile, said that it's "delightful to watch the guy who expanded RICO prosecutions well beyond their original intent, and did so grasping for the biggest headlines, to watch him be indicted by the very law that he championed."
When the indictment was unveiled on Tuesday, Aug. 15, Giuliani called the case "a ridiculous application of the racketeering statute." The 97-page, 41 felony-count indictment accused the 19 individuals of participating "in a criminal enterprise in Fulton County, Georgia and elsewhere." Fulton County District Attorney Fani Willis accused the operation of attempting to allow Trump "to seize the presidential term of office."
Trump and Giuliani are joined in the indictment by John Charles Eastman, Mark Randall Meadows, John Chesebro, Jeffrey Clark, Jenna Lynn Ellis, Ray Stallings Smith III, Robert David Cheeley, Michael A. Roman, David James Shafer, Shawn Micah Tresher Still, Stephen Cliffgard Lee, Harrison William Prescott Floyd, Trevian Kutti, Sidney Katherine Powell, Cathleen Alston Latham, Scott Graham Hall, and Misty Hampton.