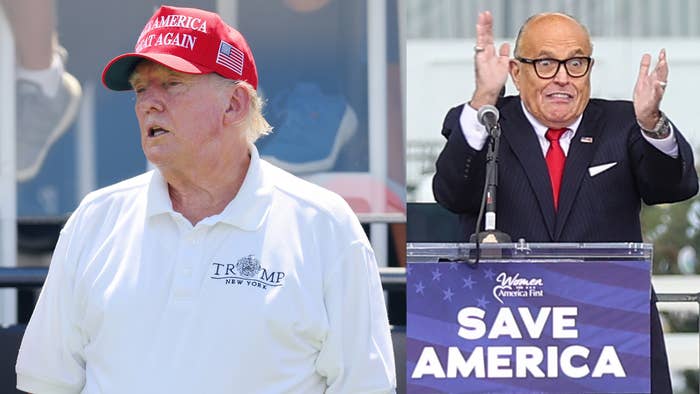 Another day, another Trump indictment.
This time, the former POTUS and steak salesman has been named in an indictment returned by a grand jury in Fulton County, Georgia in connection with attempts to overturn the results of the 2020 presidential election. At a press conference on Monday, Fulton County District Attorney Fani Willis—who was recently made the subject of false affair claims from Trump—detailed the allegations included in the indictment.
According to Willis, as seen in the WAGA-TV video below, the 19 individuals indicted are charged in connection with "violations of Georgia law arising from a criminal conspiracy to overturn the results of the 2020 presidential election in this state."
The 97-page indictment includes 41 total felony counts across the accused, with all 19 alleged to have participated "in a criminal enterprise in Fulton County, Georgia and elsewhere." This enterprise, Willis said, operated under the goal of allowing Trump "to seize the presidential term of office."
Trump is joined in the indictment by Rudy Giuliani, John Charles Eastman, Mark Randall Meadows, John Chesebro, Jeffrey Clark, Jenna Lynn Ellis, Ray Stallings Smith III, Robert David Cheeley, Michael A. Roman, David James Shafer, Shawn Micah Tresher Still, Stephen Cliffgard Lee, Harrison William Prescott Floyd, Trevian Kutti, Sidney Katherine Powell, Cathleen Alston Latham, Scott Graham Hall, and Misty Hampton.
Trump's charges in the indictment—available to read in full here—include violation of the Georgia RICO Act, solicitation of violation of oath by public officer, conspiracy to commit impersonating a public officer, conspiracy to commit forgery in the first degree, filing false documents, and more.
As pointed out by Insider and elsewhere, there's a sweet irony to Giuliani being named in such an indictment given his personal history with RICO laws. Giuliani, of course, has often touted his previous RICO work as an attorney in New York when waxing not-quite-poetic about his career.
In fact, per the New York Times, Giuliani has gone so far in the past as to claim that he "invented" using RICO when it came to mafia-related cases.
''Using it against the commission, that was an idea that no one had until I developed it and went down to Washington and started talking about it.'' Giuliani once said, per a 1989-dated Times piece., ' And I came to the office with it.''
Trevian Kutti, meanwhile, is a name that will likely be familiar to those who have followed 2020 election cases and/or the MAGA era of the artist formerly known as Kanye West's career. Kutti's counts include violation of the Georgia RICO Act, conspiracy to commit solicitation of false statements and writings, and influencing witnesses.
At one point, Kutti worked as a publicist for Ye, though prior statements have noted that this role was not held at the time of the allegations included in the indictment. In a statement to Reuters in 2021, a Ye rep said that Kutti "was not associated with" the artist "or any of his enterprises" at the time of then-new allegations of her attempting to pressure an election worker in Georgia.
While arrest warrants have also been issued in conjunction with the new indictment, Willis said on Monday that she was giving those indicted until no later than Aug. 25 to "voluntarily surrender."
Worth noting here is that Willis, as many readers will have already recognized, previously used RICO in her case against Young Thug and YSL. At the time of this writing, Thug remained behind bars.