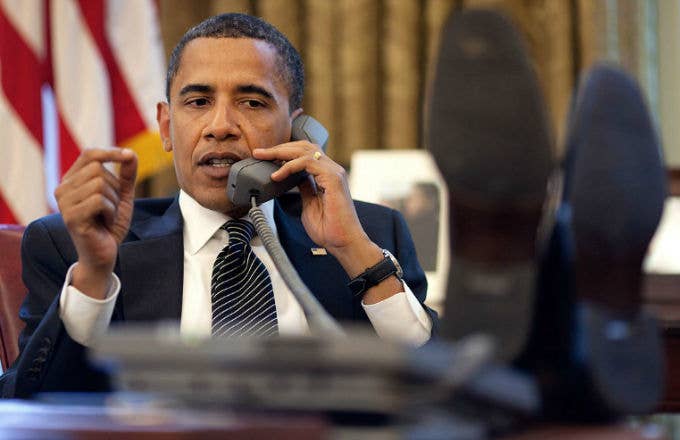 Just days after approving the first American factory in Cuba in nearly half a century, President Barack Obama is now expected to make a proper visit to the country in what will make for another historic moment in its revived relationship with the United States. Obama's visit, which ABC News reports is expected to take place in "mid-March," will reportedly be part of a "broader" Latin America trip.
Obama promptly confirmed the visit early Thursday morning in a series of tweets. "14 months ago, I announced that we would begin normalizing relations with Cuba," @POTUS tweeted. "We've already made significant progress. Our flag flies over our Embassy in Havana once again. More Americans are traveling to Cuba than at any time in the last 50 years." Ben Rhodes, who boasts the lengthy but super cool title of Assistant to the President and Deputy National Security Advisor for Strategic Communications and Speechwriting, penned a piece on Medium to break down the "why" of Obama's historic Cuban visit, excerpted below:
"Cuba's nascent private sector — from restaurant owners to shopkeepers — has benefited from increased travel from the American people. Increased remittances to Cuba from the United States has helped Cuban families. Openings for American companies also hold the potential of improving the lives of ordinary Cubans — for instance, American companies will be enabling travelers to stay in Cuban homes and setting up a factory that will provide equipment for farmers. The Cuban government has taken some steps to fulfill its commitment to expand access to the Internet, expanding wireless hotspots and announcing an initial broadband connection."
The move will make Obama the first president to visit Cuba in more than eight decades, ABC News notes, an obvious milestone that's not entirely supported by some GOP leaders. "The Cuban government remains as oppressive as ever," Marco Rubio told CNN earlier this week. Obama, however, sees the visit as an opportunity to continue working in tandem with Cuban leaders to improve both American relations and the country's position in international discourse. "We still have differences with the Cuban government that I will raise directly," Obama said on Thursday. "America will always stand for human rights around the world."
Of course, Obama's visit to Cuba isn't the first "first" for the outgoing president. Just last year, Obama became the first sitting president to ever visit a federal prison. That visit, which was documented in a VICE x HBO special, was aimed at raising awareness for the desperate need for swift and drastic prison reform.