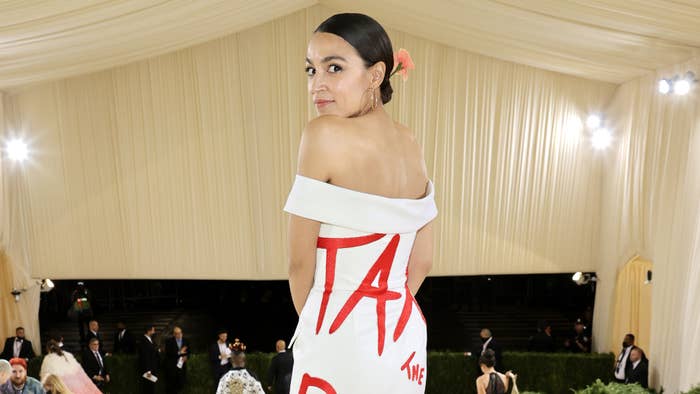 Rep. Alexandria Ocasio-Cortez made her first Met Gala appearance on Monday, using the opportunity to feature a taxation-related message on her white gown by Brother Vellies.
The New York Democrat, who earlier this week slammed Joe Manchin for his "weird" and "patronizing" decision to dismissively refer to her as "young lady," had the phrase "tax the rich" emblazoned on the back of the Brother Vellies gown. Additionally, she also carried a red purse featuring the same message.
Expectedly, some from-afar observers were quick to question or even criticize the presence of such a message at an event of this type. AOC, however, was just as quick to share a message to anyone who might be "wilding out" about her Met Gala presence.
"NYC elected officials are regularly invited to and attend the Met due to our responsibilities in overseeing our city's cultural institutions that serve the public," she wrote on Instagram and Twitter. "I was one of several in attendance." AOC also shouted out Brother Vellies founder Aurora James, saying she was proud to work with the CFDA winner to "kick open the doors at the Met."
Early Tuesday, James also shared an extended note detailing the creative intent behind the dress while also pointing to the opportunities these types of events offer for those aiming to make a statement.
"We can never get too comfortable in our seats at the table once they've been given," James, who launched the 15 Percent Pledge initiative last year, wrote. "We must always continue to push ourselves, push our colleagues, push the culture and push this Country forward. Even when it's uncomfortable. Fashion is changing, America is changing."
Among the other messages seen at the Met Gala on Monday was "peg the patriarchy" by way of Cara Delevingne. Highlights from this year's fundraiser, meanwhile, include Frank Ocean showing up with a fake baby that brought to mind Annette.