Alex Jones Won't Be Allowed to Return to Twitter, According to Elon Musk
Donald Trump, meanwhile, has been reinstated on the platform after being "permanently" suspended in connection with the fatal Capitol riot last year.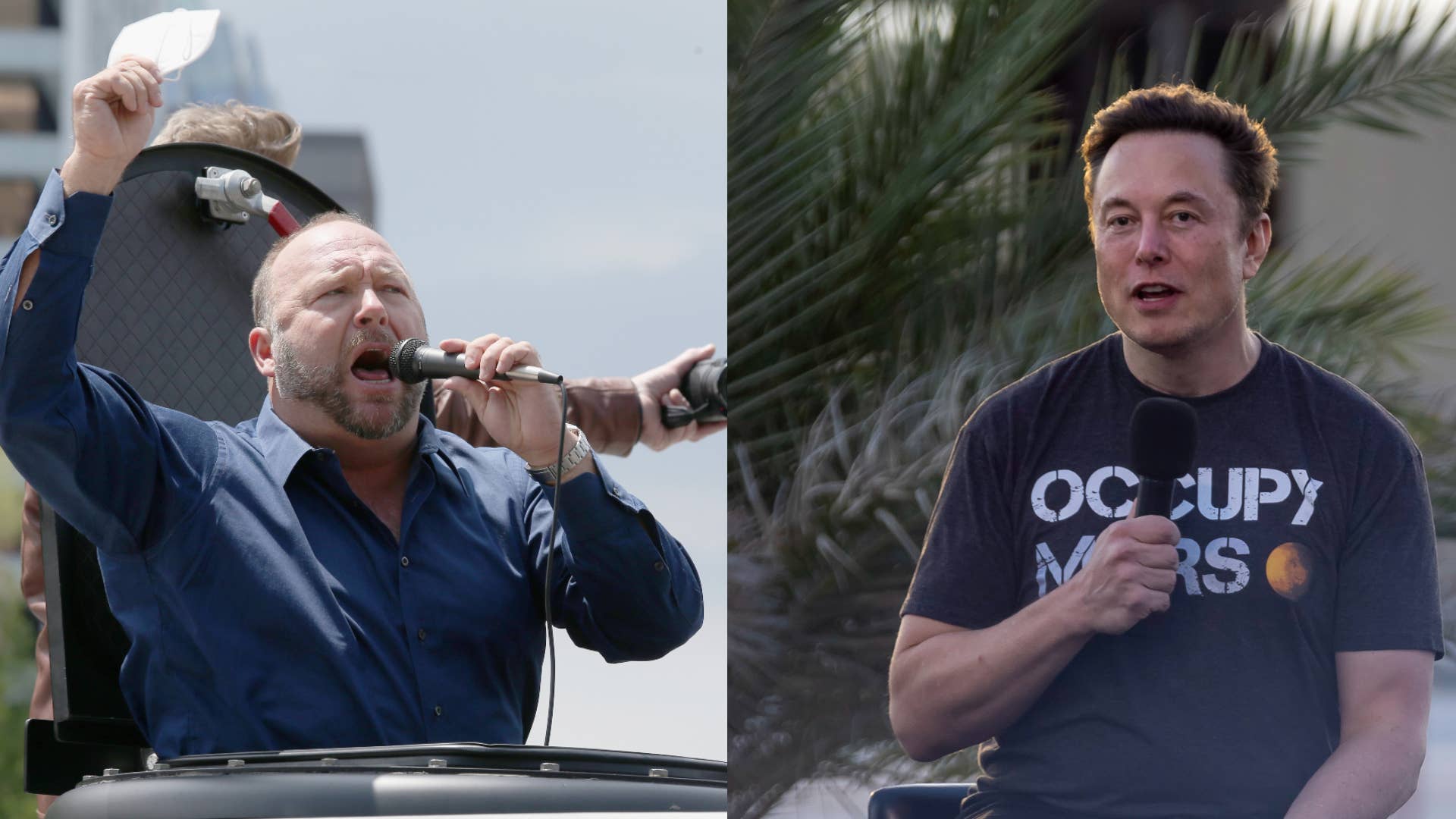 Getty
Images via Getty/Gary Miller & Getty/Michael Gonzalez
Alex Jones, who earlier this month was ordered to pay hundreds of millions of dollars more in connection with sharing false claims about the Sandy Hook mass shooting, will not be allowed to return to Twitter.
This is according to Elon Musk, who has shared several tweets in recent days in response to questions about the far-right conspiracy theorist and InfoWars founder. 
In one tweet, Musk offered a simple "no" when asked to "bring back" Jones, who was banned from the platform in 2018. In another, Musk said he had "no mercy" for those who "use the deaths of children."
See more from Musk below.
In September 2018, Twitter announced the permanent suspension of the @realalexjones and @infowars accounts, saying at the time that the decision was spurred by violations of the site's abusive behavior policy. If Musk's current comments are to be believed, then these permanent suspensions will hold despite the recent (and widely criticized) Twitter Inc. shakeup.
Also over the weekend, Musk followed up a poll about ex-POTUS Donald Trump's banned account by reinstating it. Trump's account, of course, was banned in 2021 in response to the fatal Capitol riot. When confirming Trump's suspension in an extended public statement, Twitter said it had "permanently" barred the account because of a risk of "further incitement of violence." 
While Trump has (thus far) not utilized the newly reinstated account, the return of the former TV personality's account has been met with widespread criticism, as has a litany of developments surrounding the Musk era of Twitter.