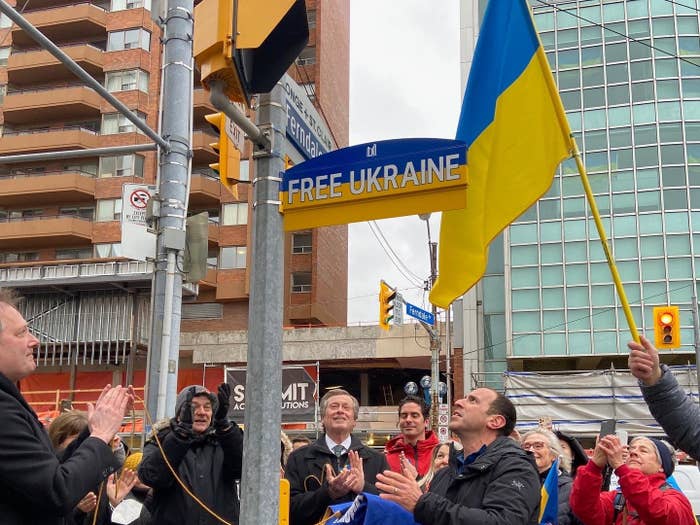 In the midst of Canadians doing small things to draw attention to the Russian invasion of Ukraine, such as ghost booking Airbnbs, donating to support Ukrainian cancer patients landing in Montreal, and some bars renaming the Moscow Mule to the Kyiv Mule, Toronto has tagged a busy intersection as "Free Ukraine Square." 
The street signs at Yonge and St. Clair—the intersection near the Russian Consulate—were changed to resemble the  Ukrainian flag with the words "FREE UKRAINE" over it. Toronto Mayor John Tory attended the unveiling alongside a crowd of supporters on Sunday morning. 
"Today we unveiled 'Free Ukraine' signs along the front of the Russian Consulate on St. Clair Avenue," says Tory in a tweet. "This area will now be called 'Free Ukraine Square' on an honourary basis—serving as a symbol of Toronto's solidarity with Ukraine and Canadian-Ukrainians."
The Yonge and St. Clair area has seen many peaceful demonstrations since the invasion began almost a month ago. Recently, Ukrainian President Volodymyr Zelensky refused to give into Putin's demand to surrender the eastern city of Mariupol. Zelensky also warned that failed talks between Ukraine and Russia could lead to World War III. 
Canada has the second-largest population of Ukrainian residents outside of Ukraine, falling just behind Russia. Read our list of Canadian resources to help Ukraine here.