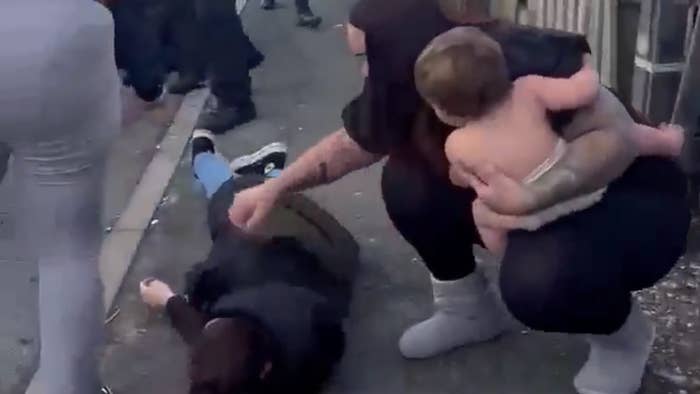 A woman was knocked unconscious after someone hurled a tire in her direction in the middle of a brawl between police and civilians in Wales.
Police engaged a group of people in an all-out fight in the city of Wrexham, specifically the village of Rhosllanerchrugog, and video footage showed how bad the scuffle got. A man is seen being wrestled to the down with people watching in the background, and eventually, several bystanders get involved in the altercation.
At one point, police pulled out their batons, with one officer using his pepper spray to move the group of people back as the person on the ground was being dealt with. Suddenly, someone off-screen throws what appears to be a bicycle tire and hits a woman who is watching the brawl go down.
The force of the tire hitting the woman's head caused her body to stiffen up as she fell hard to the ground. People began to scream as a woman with a baby checked on the victim.
The video cut off after the woman hit the ground, but according to a report from North Wales Police, five people were arrested after reports of public disorder. An unidentified woman was taken to the hospital for injuries, while three officers were assaulted and injured.
Two men and two women were arrested on suspicion of offenses concerning the incident, including affray, threats to kill and to damage property, and assaulting emergency workers. Another 25-year-old male was also arrested on suspicion of assault, affray, and threats to damage property.