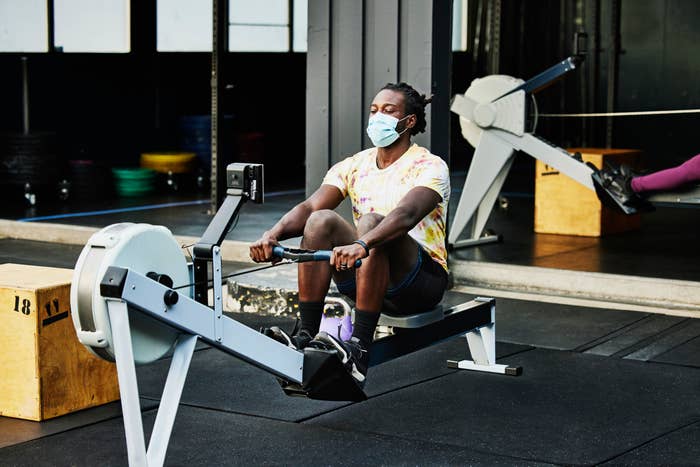 As the weather warms up, it's only natural to want to get into shape—and what better city to work out in than Los Angeles? LA is known for having endless perfect weather and gorgeous beach scenery, which makes exercising outdoors a no-brainer. 
But a great outdoor gym needs to be worth the drive through notorious LA traffic. It should have diverse equipment, knowledgeable trainers, positive customer service, and reasonable prices (all of which are hard to find in LA). The gyms on this list have some of the best online reviews and have managed to replicate their indoor gym magic outside of the gym walls. Here are 11 of the best outdoor gyms in the LA area.
Founder: Zach Golden

Address: 718 Jackson St., Los Angeles

Prices: $25/single | $199/mo

Website: Sanctuary Fitness
Sanctuary Fitness has daily outdoor HIIT and yoga classes spaced out evenly across its outdoor area. The online reviews are positive and its single class rate leans on the affordable end, compared to neighboring studios. The gym aims to grant clients "peace through perspiration" and focuses on the balance between physical and spiritual for a workout that leaves its members fulfilled. It's also worth mentioning that this gym is not afraid to take a stand against hate and support marginalized groups.
Founder: JP Amistoso

Address: 3235 N San Fernando Rd Unit 4, Los Angeles

Price: $25/single | $220/mo

Website: Ganbatte Fitness
Ganbatte translates to "doing your best" in Japanese. According to the gym's website, founder JP Amistoso has a history of pushing himself and others to do their best. As an Ironman qualifier, marathon runner, triathlete, and former Philippine National Tennis Team member, Amistoso and his staff appear to be an elite group of coaches. The outdoor sessions allow for seven feet of social distancing. The gym requires all nonathletes to complete its fundamental program before enrolling in its workout of the day sessions.
Founder: Luke Milton

Address: 7825 Santa Monica Blvd., Los Angeles

Price: $48/single |  $275/mo

Website: Training Mate
This gym prides itself on being fun and effective. It's on the pricier side, but has widely positive reviews from its clients. The founder is a former professional Australian rugby player who currently trains celebrities and is kind of a celebrity himself. You might recognize him from Revenge Body With Khloé Kardashian. During the classes, which focus on nine intense rounds of 45-second exercises, the trainers lead with lots of passion and excitement. Outdoor classes are typically capped at six people.
Founder: John Whitman

Address: 5741 West Adams Blvd., Los Angeles

Price: $35/single | $229/mo

Website: Alliance Culver City
Like most gyms, Alliance offers a range of workout packages, but the most popular monthly rate allows eight visits a week. Does anyone really need more than that? This gym offers 45-minute classes that operate completely outdoors. One of the most impressive parts of this facility is its Krav Maga program. Alliance is the headquarters for the Israli martial art form and people fly in from all over the world to train at the establishment. Kickboxing, CrossFit, yoga, HIIT, and Muay Thai are some other popular classes offered at Alliance.
Founder: La Niecia' Vicknair

Address: 3701 West 54th St., Los Angeles

Price: $25/single | $105/five classes

Website: Thrive Health Lab
Coach Lala has turned her personal and professional fitness goals into Thrive, a highly rated wellness and health studio. The gym provides HIIT sessions, personal training, yoga, TRX, barre classes, and nutrition plans. They've even hosted free outdoor classes across the street from the facility on Saturdays. There's always something new to help its members sculpt, tone, and get in shape. Best part: It's located within the LA city limits.
Founder: Gina & Bernard Baski

Address: 2425 Colorado Ave Suite B100, Santa Monica

Price: $35/single | $139/mo

Website: TRIFIT
TRIFIT is a family owned gym with a major brand feel. The outdoor setup includes free weights, cardio machines, kettlebells, benches, and other standard gym equipment. There are lots of positive online reviews about the Santa Monica space and it has some of the best prices compared to the other gyms on this list. Membership includes access to both the indoor and outdoor facilities as well as access to the pool. It also offers personal training, personalized nutrition, physical testing, and other fitness services.
Founder: Lisa Hirsch-Solomon

Address: 3920 Landmark St, Culver City (outdoor) 

Price: $35/single | $239/mo

Website: The Studio (MDR)
The Studio (MDR) offers Lagree workouts using machines called megaformers. The routines are more intense versions of Pilates and the outdoor sessions are done on a valet rooftop under an open tent with equipment spaced 8 feet apart. MDR boasts that its program helps clients create strong, lean, toned bodies, and according to glowing online reviews that claim is true.
Founder: Mauricio González

Address: 91 E Union St., Pasadena

Price: $23/single | $249/mo

Website: Classic Kickboxing
Located about 30 minutes from Central LA, this Pasadena kickboxing gym has outdoor classes and bootcamps that are pretty much accessible to all skill levels. It has rave online reviews and an impressive roster of coaches that include Olympic medalists and martial arts champions. In fact, gym owner Mauricio González is a Colombian kickboxing and Taekwondo national champion, as well as a US kickboxing and Muay Thai national champion.
Founder: Jarett Perelmutter

Address: 7811 Santa Monica Blvd., West Hollywood

Price: $32/single | $265/mo

Website: BRICK
BRICK has two locations: One in LA and another gym in New York City. At the LA fitness center, the outdoor parking area has been transformed into a FitLot with daily classes and standard gym equipment. But if that's not enough, the gym offers a 75-minute outdoor running class that teaches the proper technique, form, and fundamentals of running. It also offers one free class, when new clients purchase their first session.
Founder: Siavash Fashi

Address: 4301 Sepulveda Blvd., Culver City

Price: $299/mo (up to 8 sessions) | $399/mo (up to 12 sessions)

Website: SixPax Gym
SixPax calls itself a small gym with big results, and by the looks of its testimonials they just might be (gains, gains, gains). This private training studio operates 90 percent of its routines outdoors. It gives clients the opportunity to use gym equipment any time and receive private training twice or three times a week. Sessions include 30 minutes of intense workouts, and it's about 11 miles from Central LA. Though the price seems higher compared to other gyms on this list, its sessions are highly personalized with unlimited cardio, personalized nutrition plans, and tailored workouts.
Founder: Darren Shepherd

Address: 431 S Hewitt St., Los Angeles

Price: $25/single | $219/mo (unlimited visits)

Website: ESTLR Athletics
Formerly known as Trojan CrossFit, ESTLR Athletics Weightlifting is a CrossFit and Olympic weight training gym formed by CrossFit coach Darren Shepherd. The gym incorporates gymnastics into its CrossFit training and has a host of five-star reviews. While the gym mostly functions indoors, the facility allows members to take free weights, dumbbells, rowers, and other equipment outdoors. The highly competitive and camradric lifting environment offers a lure for professional weightlifters and national champs. The fact that it's located within the Los Angeles city limits is another plus.