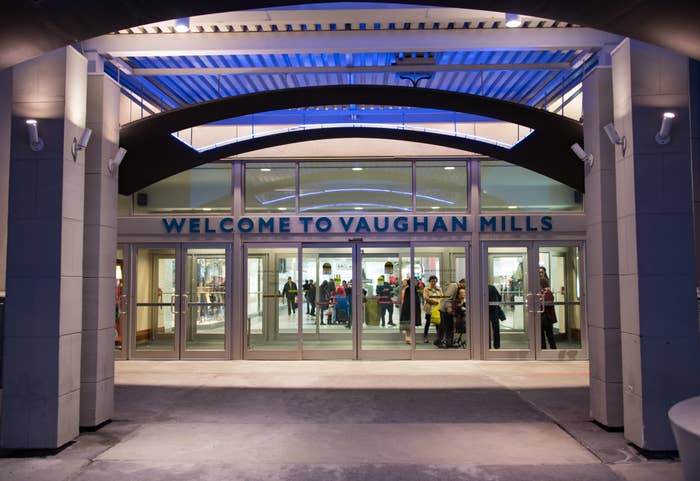 The York Regional Police released a video of a 2011 Audi A4 driving through a Vaughan Mills mall entrance in a smash-and-grab robbery in which two thieves stole a number of electronic devices before crashing the car into a separate entrance to get away.
Though the robbery itself isn't shown in the video, it still shows the vehicle smashing through the entrance and cruising around the mall before making its exit at another entrance elsewhere in the mall.
Sgt. Clint Whitney, the spokesperson for York Regional Police, explained that the robbery happened around 1:10 a.m. on Feb. 1. 
"Fortunately, nobody was harmed," Whitney said when addressing the media. "Nonetheless, it's an audacious crime and remarkable."
The Audi in question was located not long after the robbery itself, sported a "Ladies on Wheels" decal, and had a Quebec license plate.
In a twist to the story, Global News tracked down the owner of the Audi who reported that the vehicle was stolen right in front of her.
Taylor-Anna Kobinger from Laval, Quebec, explained to Global News that she had listed the car on Facebook Marketplace and had offered a potential buyer the chance to test drive it.
Kobinger said that the man test-drove the car without an issue but wanted to go a second time, but on the highway, a request Kobinger denied. When the two were supposed to swap seats, Kobinger said that the man suddenly returned to the driver's seat and took off with the doors open.
"Both our doors were open," Kobinger said to Global News. "He didn't even have both feet in the car. He had his left leg hanging out and his right leg he just pressed on the gas. Then, he kinked the car so that the doors could close. I tried to catch back the handle, but then I slipped."
The robbery of Vaughan Mills Mall happened only a few days after the theft of Kobinger's Audi.