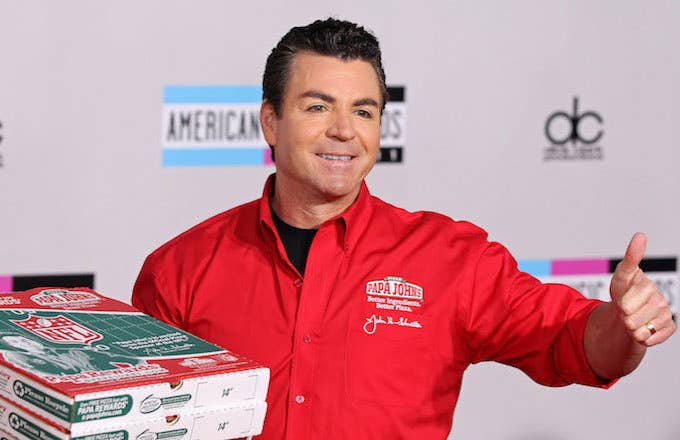 The man who built an empire serving mediocre at best pizza (yeah, I said it) is stepping down. Papa John's CEO John Schnatter started the nation's third largest pizza chain in 1984 and will remain chairman of the board. He will be replaced by company president Steve Ritchie.
No word yet as to why Schnatter made the move, but it could have something to do with the controversy he sparked when, in true entitled white man fashion, ripped on NFL players taking a knee during the national anthem (and the league for allowing it), as he believed the gesture negatively impacted sales. How many pizzas is the right to peaceful protest worth to you, dude? Anyway, probably worth noting that Papa John's is the official sponsor of the NFL.
Industry insiders were caught off guard by Schnatter's decision. John Gordon of the Pacific Management Consulting group said, "At the very least, it was distracting and I'm wondering whether this was board-driven or if it was John's choice." Hm…
But we what we do know is that back in November, Schnatter said Papa John's was "disappointed that the NFL and its leadership did not resolve the ongoing situation to the satisfaction of all parties long ago." I don't think America's issues with race can be solved by the NFL, but okay. It's not the first time Schnatter has stepped down. He took a break from being CEO between 2005 and 2008.
Today, Papa John's stock closed a 2-cent loss. Schnatter announced his decision when the market closed.