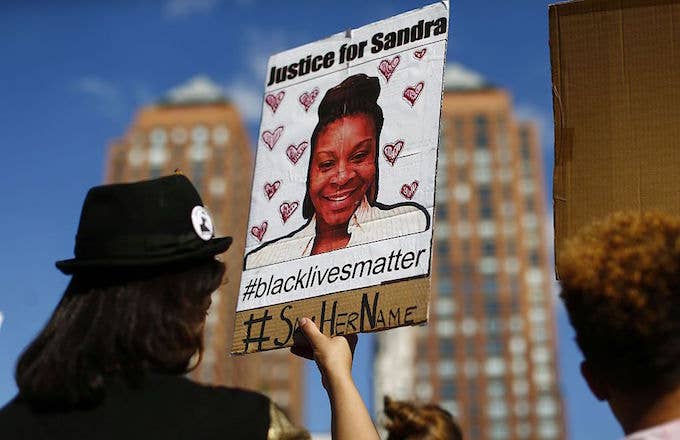 Prosecutors have dropped the single criminal charge against Brian T. Encinias, the Texas state trooper who arrested Sandra Bland in July 2015. After a grand jury trial in 2016 found him guilty of lying about why he pulled Bland over two years ago, Encinias was charged with perjury, a misdemeanor. The officer claimed Bland had been "combative and uncooperative" when he stopper her for failing for use her turn signal, and he said she refused to get out of her car. This account contradicted the dashboard video footage from Encinias' car that showed him threatening Bland with a stun gun and yelling, "I will light you up!""
Bland was eventually arrested for assault and taken to Waller County Jail. She was found dead in her jail cell three days later. She was 28 and had been on her way to start a job at Prairie View A&M University. Her death was ruled a suicide. 
On Thursday, the Greater Houston Coalition for Justice denounced the prosecution's decision to drop the case and added that, although they hope charges will be brought forth in the future, they believe this is an indication that no one will ever face criminal charges for Bland's death.
Cannon Lambert, an attorney for the Bland family, noted his disappointment that the court decided to drop the case after "they assured the family they would see this through." Lambert added that "this is the reason why the community has a hard time trusting the system."
As part of the dismissal of the perjury case against him, Encinias has agreed to return his license and never work in law enforcement again. The case will also permanently remain on his record, according to NBC News. Encinias was the only person to be criminally charged over Bland's death. 
"We understand that this is far from a perfect solution, and that many people will feel that this is an inadequate punishment, while others feel that charges should have never been filed," special prosecutors Phoebe Smith and Chad Dick said in a statement. "This is a solution that will guarantee that Mr. Encinia will never be a licensed law enforcement officer again."
Chip Lewis, one of the lawyers defending Encinias, defended the judge's dismissal of the charges against his client. "This is the product of cooler heads, time, and my presentation of the objective evidence to reach the right decision," he told the American-Statesman.
Bland's death has become a symbol of the mistreatment of black people in police custody in this country. The Black Lives Matter movement rallied around the case, calling attention to the mysterious circumstances surrounding Bland's death and the inconsistencies in the police's account of her arrest. 
Just two weeks ago, Texas Governor Greg Abbott signed the Sandra Bland Act, a law that attempts to make life easier for those who have or are suspected of having mental health issues and find themselves in police custody.