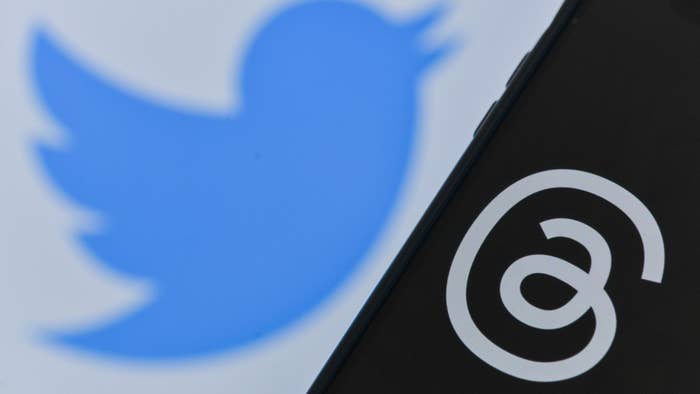 Twitter is apparently gearing up for a legal battle.
Semafor reports the Elon Musk-owned tech giant has threatened to sue Meta over its Threads app, a newly launched social media platform that rivals Twitter. According to a letter addressed to Meta CEO Mark Zuckerberg, Twitter attorney Alex Spiro accused the company of poaching former Twitter employees who "had and continue to have access to [its] trade secrets and highly confidential information." Meta then allegedly used those staffers' access and knowledge to accelerate the creation of a "copycat" application, which would violate both state and federal laws.
Spiro said the alleged moves have raised "serious concerns that Meta Platforms (Meta) has engaged in systematic, willful and unlawful misappropriation of Twitter's trade secrets and other intellectual property".
"Twitter intends to strictly enforce its intellectual property rights, and demands that Meta take immediate steps to stop using any Twitter trade secrets or other highly confidential information," the letter read. "Twitter reserves all rights, including but not limited to, the right to seek both civil remedies and injunctive relief without further notice to prevent any further retention, discourse, or use of its intellectual property by Meta.
A Meta source denied the allegations in a statement to Semafor, saying: "No one on the Threads engineering team is a former Twitter employee — that's just not a thing."
Meta, the parent company of Facebook and Instagram, officially launched Threads on Wednesday night and reportedly logged more than 10 million users within its first seven hours. As of Thursday afternoon, the app had surpassed 30 million sign-ups across 100-plus countries. Among its users are celebrities, brands, and professional athletes, including names like Jennifer Lopez and Gordan Ramsey to Netflix and HGTV to Mark Cuban and UFC's Mike Davis.
Hours after the launch, Davis asked if Threads will ever "become bigger than Twitter." Zuckerberg replied with cautious optimism.
"It'll take some time, but I think there should be a public conversations app with 1 billion+ people on it," he wrote. "Twitter has had the opportunity to do this but hasn't nailed it. Hopefully we will."
Musk has replied to some of the reactions from the lawsuit, writing, "competition is fine, cheating is not."