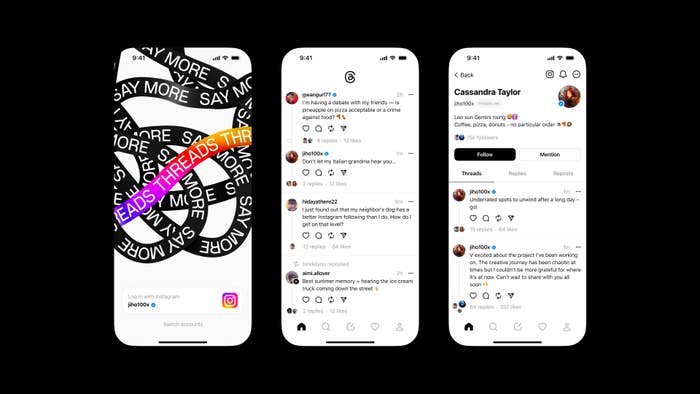 As we all continue to wither away atop the increasingly overfilled grave that is post-Musk Twitter, another potential contender in the text-based app battle has emerged.
Threads, built by the same team behind Meta's Instagram, was rolled out on Wednesday after being the subject of imminent launch rumors earlier this year. So, to be absolutely clear here, this isn't some sort of underdog option taking on the former Big Guy. Still, it's hard to deny the admirable smoothness with which this launch was carried out, complete with a seamless signup process that allows users to carry over key IG info—who they follow, bios, profile pics—in a matter of seconds.
For those on the fence about signing up for yet another time-sucker, we've broken down what you need to know about Threads below.
What is Threads?
As touched on above, Threads is perhaps best described as a Twitter alternative from the same folks who built Instagram, which still stands as the leading photo-based platform more than a decade after its initial launch. Meta bills it as a new app "for sharing text updates and joining public conversations."
How do you sign up?
Signing up is impressively easy. Simply download the app, then log in using your IG account. Once signed up, you have the option to carry over who you follow on IG, as well as your current profile pic and bio settings.
Is it just like Twitter?
Not exactly, though the general setup is very much in line with the classic Twitter experience. At the time of launch, your feed is set to show threads shared by people you're following, as well as "recommended content from new creators you haven't discovered yet." Understandably, this is arguably less-than-desirable aspect of the new app, though updates to the feed design are expected to be rolled out soon. Notably absent, and quite welcomingly so, is a DM option.
How does it work?
Posts are allowed to be as long as 500 characters and can feature pics and links, as well as video clips no longer than five minutes. A Threads post can also be shared to your IG Stories and to other social media services via a copy-and-paste link. IG's Community Guidelines, meanwhile, will also apply to the Threads experience. Looking ahead, Meta said in a recent press release, the aim is to have Threads become "interoperable" with other apps via ActivityPub. In short, this would enable interconnectivity across multiple platforms. We should also note that you can't delete your Threads profile without deleting your Instagram profile.
How successful was the launch?
According to Meta CEO Mark Zuckerberg, two million signups were reported in just the first two hours of Threads' availability. That number, again according to Zuckerberg, jumped to five million within the first four hours. Per Zuckerberg's final update on launch day (Wednesday), Threads had seen 10 million signups in its first seven hours of availability. By Thursday morning, that number had grown to a whopping 30 million. In his first tweet in seemingly 11 years, Zuckerberg appeared to reference Musk with a Spidey meme.
Is Threads the only Twitter alternative?
No, though—due to it falling under the Meta and IG banner—it's sure to generate the bulk of the attention. Other previously launched Twitter alternatives of note include Spill, Bluesky, and Mastodon.
What do people think so far?
In addition to actual insights into the early Threads experience, people (expectedly) had plenty of jokes.