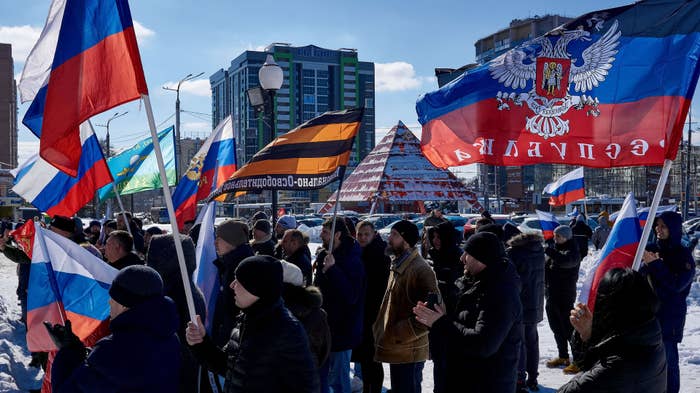 More than 4,300 people in Russia were detained Sunday for protesting president Vladimir Putin's decision to invade Ukraine, Reuters reports.
Russia's interior ministry disclosed that of the 56 different cities where the protesters were detained, 1,700 were located in the capital of Moscow, and 750 were from the heavily-populated city of St. Petersburg. Protesters reportedly shouted chants, such as "no to war" and "shame on you!" 
The OVD-Info rights group says over 10,000 people have been detained at protests since the invasion began, per BBC.
Maria Kuznetsova, OVD-Info's spokeswoman, told Reuters that the "screws are being fully tightened," and "we are witnessing military censorship."
Putin announced last month that he authorized a "special military operation" in an effort to achieve the alleged "demilitarization and de-Nazification" of Ukraine. He also issued a threat to any country that tried to interfere would face "consequences as you have never before experienced in your history." 
The United States and its NATO allies have essentially watched from the sidelines, and instead, imposed numerous sanctions aimed at crippling Russia's economy. Putin delivered a statement over the weekend where he called these sanctions "akin to a declaration of war."
Ukrainian presidentVolodymyr Zelenskyy recently pleaded with Congress to work with NATO on implementing a no-fly zone over the country, but the request has been denied out of concern that such action could result in the U.S. getting directly involved with Russia. Putin confirmed U.S. fears, saying that a no-fly zone would be interpreted as participation in their war.
Zelenskyy also asked for aircrafts for Ukrainian pilots and a ban on Russian oil, both of which are still under consideration. The latter, however, leaves the Western countries in a tough spot as Americans are already feeling the pain at the pump. According to Reuters, the price of gas soared 11 percent over the last week and reached its highest prices since 2008.