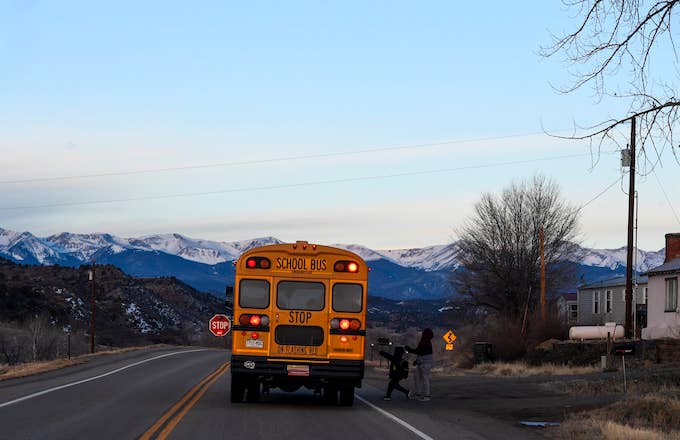 A Pennsylvania school bus driver has been charged with a DUI and 26 counts of endangering the welfare of children after reportedly leaving her vehicle with nearly 30 children inside at a gas station.
The incident began Friday afternoon when Lori Ann Mankos, 44, appeared "agitated" as she drove students from Northhampton Senior High School. At first, the kids joked around about Mankos' driving, but they soon grew concerned for their safety as she began to swerve through the streets.
"When there was a turn, a right-hand turn and when she took it she was going far too fast," Mason Persiani, a student on the bus, told WFMZ. "She ended up being halfway into the opposing lane of traffic." In a video showing the students' ordeal, one kid can be heard telling Mankos to pull over. 
Before Mankos finally pulled over the bus at a gas station, Persiani remembers her telling them, "She ended up telling us to… go f**k ourselves and flipped us off. You know, stuck her hand in the air and flipped us off."
When Mankos suggested pulling over the school bus, and calling everyone's parents to pick them up, the comment was met with a resounding "yes." She parked the vehicle at a nearby gas station where she got off, and prevented the kids from gmaking their way out as well. The children were able to escape through the emergency door located in the back of the bus. 
As for Mankos, she walked away, but not before handing the keys to a gas station employee. The school district was able to get another bus out there to pick up the abandoned children while some were able to have their parents take them home.