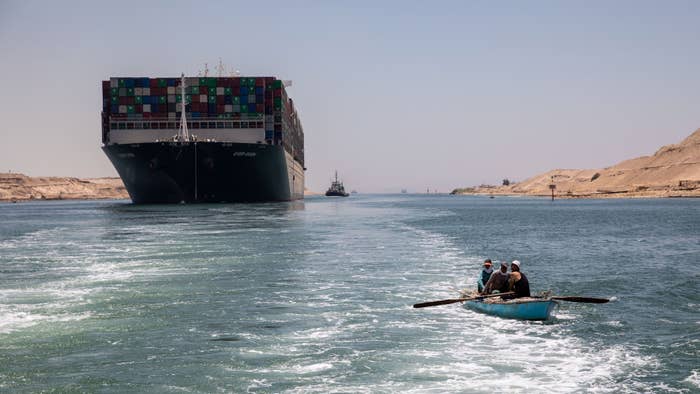 Egypt's Suez Canal was stuck again on Thursday by another Panama-flagged ship, nearly six months after the now infamous Ever Given spent six days clogging up the massive waterway and causing a global trade disruption, the Associated Press reports. 
The Suez Canal Authority said officials temporarily suspended travel through the canal before redirecting other vessels when the Coral Crystal ran aground. The ship itself was refloated with the aid of tugboats. It's unclear at the moment how the ship got stuck. 
"The incident was resolved in a professional manner through the aid of SCA tug boats, and the ship resumed its transit through the Canal," SCA managing director Admiral Ossama Rabei said. "Traffic was not negatively impacted in any way since it was directed to the eastern branch of Al-Ballah bypass."
Reassurances over Coral Crystal's short-lived blockage from the SCA come after the Ever Given ran aground in a single-lane stretch of the canal, which accounts for 10 percent of trade around the world. It was seized by the Egyptian government shortly thereafter in pursuit of a financial settlement that would later be resolved through the vessel's insurance company, UK P&I Club. Details regarding the settlement weren't disclosed, but the SCA lowered its demand from $900 million to $550 million. 
Saudi news channel Al Arabiya notes the SCA is looking to prevent these incidents from occurring again by widening sections of the channel through a multi-billion dollar project.