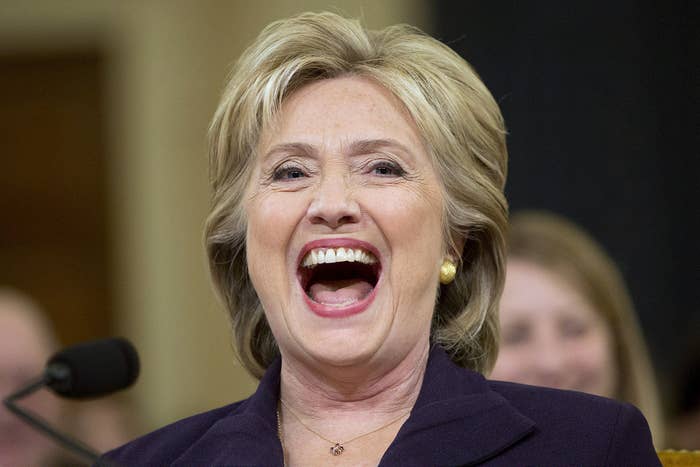 Donald Trump isn't the only one prepared to stay up past his bedtime. Hillary Clinton combated Trump's now infamous "early morning" tweet by crafting a message of her own at 3:20 a.m. on Saturday. 
"It's 3:20 a.m. As good a time as any to tweet about national service," the Democratic presidential candidate said, taking a jab at Trump. The early morning post was linked to an article listed on her official website discussing the importance of national service and her mission to continue to push for service programs during her presidency.
Clinton continued her Twitter thread into the wee hours of the morning, discussing the importance of AmeriCorps and Peace Corps, both programs that promote public service. "There are hundreds of thousands more @AmeriCorps applications than spots. Horrible! Let's expand it from 75,000 annual members to 250,000," she tweeted around 3:23 a.m. "Too many talented young people pass up on programs like @Peacecorps because of student loans. Let's use GOOD JUDGMENT & lighten that burden." 
She finished her late-night talk by telling voters to not believe the "haters," also known as Trump and his supporters, when they say America is "broken." "Remember, don't believe the haters who describe America as hopeless and broken. We should lift each other up, not tear each other down."
Clinton's tweets follow Trump's early morning rant attacking former Miss Universe Alicia Machado on Friday. After some voters criticized him for being on social media after dark, Trump hit back by saying, "at least you know I will be there, awake, to answer the call!" 
Trump has yet to respond to his opponent's latest morning remarks. But it's nice to know that both candidates are taking this idea of "No Days Off" to heart.