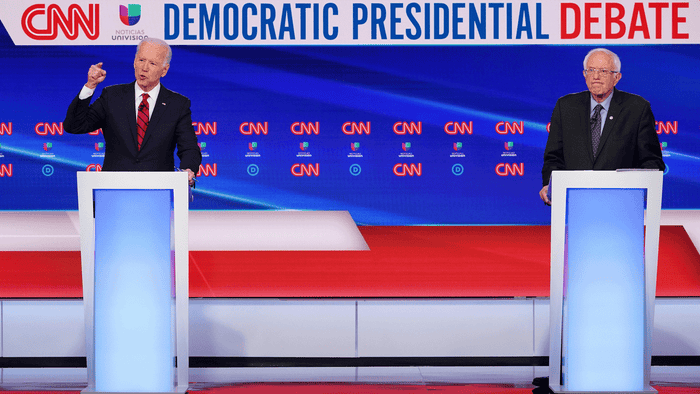 On Sunday night, the first one-on-one debate of the 2020 Democratic primary took place between Joe Biden and Bernie Sanders in Washington D.C.
For reasons that need no further elaboration, a lot of the early discussion surrounded the coronavirus. But, slightly over an hour into the event, Biden committed to naming a woman as his running mate. Sanders was then asked if he would commit to that, too. He did not definitively do so, but he did say that, "in all likelihood, I will." Sanders added that he would not solely pick a woman just for the sake of doing it, but said that he would make certain "we have a progressive woman." He said that his "very strong tendency" is to go in that direction.
Previously, Biden said that he'd seriously consider naming a woman or a person of color as his VP, according to The Associated Press. During the same general answer, Biden also said he'd appoint the first black woman to the Supreme Court:
"I commit that I will in fact pick a woman to be vice president," Biden said as part of a longer answer about what he'd do to support woman if he was elected president, according to CBS News. "There are a number of women who are qualified to be president tomorrow. I would pick a woman to be my vice president." 
When asked by moderator Dana Bash if that was a definite commitment, he said "yes."
The apparent promise was also posted to his Twitter account:
As the statement was probably intended to do, word spread quickly: