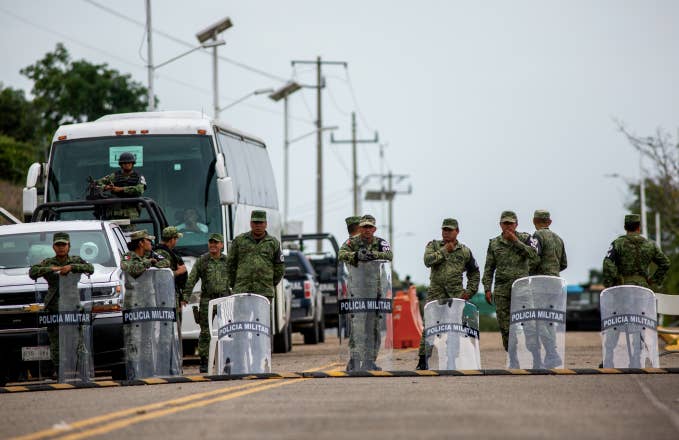 United States prosecutors have charged an ex-Mexican federal police commander with accepting bribes from drug cartels including Joaquin "El Chapo" Guzman's Sinaloa Cartel, the New York Times reports. 
Ivan Reyes Arzate pleaded not guilty to three conspiracy charges during a hearing in Brooklyn, New York. Per the New York Times, Arzate allegedly took hundreds of thousands of dollars in bribes from various cartels in exchange for relaying US investigation information to them.
From 2003 to 2016, Arzate worked for the Mexican federal police's Sensitive Investigative Unit. From 2008-2016, he was the unit's top officer. This made Arzate responsible for sharing and receiving sensitive information regarding US law enforcement investigations. The prosecution alleges that he would get paid by cartels to give them details of these investigations. 
One instance allegedly occurred in 2016. Reyes Arzate met with leaders of El Seguimiento 39—a drug trafficking ring with ties to the Sinaloa Cartel—and told them about a US Drug Enforcement Administration investigation into the organization. Arzate was reportedly paid $290,000 for telling the information. The prosecution also has cooperating witnesses that claim they personally paid bribes to the former federal officer.
Yet, the prosecution doesn't believe Arzate was a lone rogue officer. He is the second Mexican official in recent weeks to be hit with conspiracy charges and he may not be the last. 
"The defendant carried out these crimes in close coordination with other corrupt public officials in the Mexican government," prosecutors from the US Attorney's Office in Brooklyn claim. 
Reyes Arzate is already serving a 40-month prison sentence after pleading no contest to obstruction charges in 2018. If he's convicted of these conspiracy charges, he could face a maximum of 10 years in prison for each count.