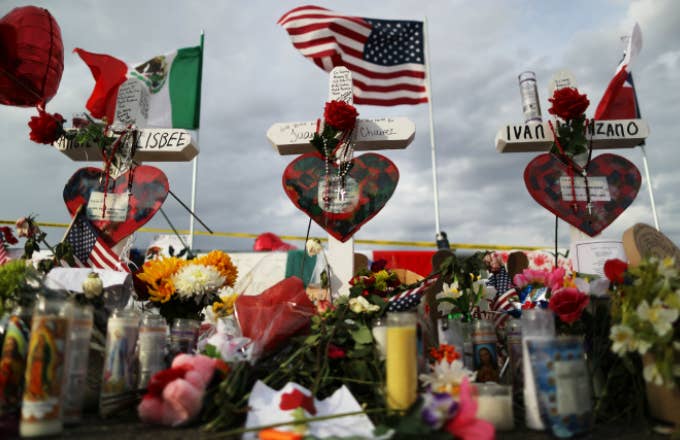 One 11-year-old boy wants to help the people of El Paso, Texas heal from the devastating mass shooting that rocked the country over the weekend.
Sixth-grader and El Paso native, Ruben Martinez, has started the #ElPasoChallenge, which calls on everyone in El Paso to do at least 22 good things for another person. The number represents the 22 people who were killed when Patrick Crusius attacked a local Walmart on Saturday. 
During a conversation with CNN, Martinez's mother, Rose Gandarilla, explained that the purpose of the challenge is to "be kind to each other all day, every day." Martinez says the acts can be anything from mowing a neighbor's lawn, visiting a nursing home, writing someone a nice letter, holding the door for a person, and more. The idea was reportedly sparked after Martinez asked his mother if they could find a grocery delivery service because he didn't want to go shopping anymore. 
"He was having some trouble dealing with what happened," Gandarilla said to CNN. "I explained to him that we could not live in fear and that people in our community are caring and loving. I told him to try and think of something he could do to make El Paso a little better." 
This prompted Ruben to come up with the #ElPasoChallenge and his first act of kindness was delivering food to first responders.
"He seems to be doing better and says that hopefully, the world will be a better place with all these random acts of kindness," his mother added. 
Octavio Lazarde, a survivor of the El Paso shooting, spoke at a news conference that took place at Del Sol Medical Center on Tuesday. "I'm in pain, it hurts," Lazarde, who was injured in the shooting, said. "But this pain will end. The only pain that won't end is the emotional."
Lazarde continued: "I just feel grateful that I'm alive [...] He had the chance to kill me but he didn't. I know cause God's with me."