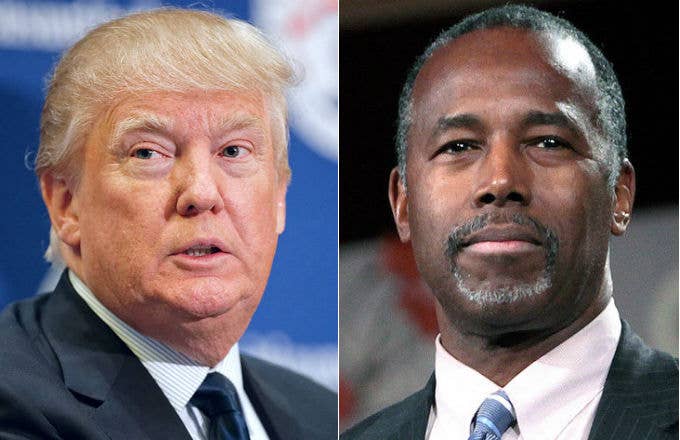 UPDATE 10:00 p.m.:
In the middle of the GOP Miami debate Donald Trump confirms retired neurosurgeon Ben Carson is endorsing him for president. 
See original story below.
Donald Trump may have locked up endorsements from two former aspiring presidential candidates by the end of tomorrow. Trump, long endorsed by person who actually had a chance to become vice president of the United States Sarah Palin, scored an endorsement from opponent New Jersey Gov. Chris Christie not too long ago. Sources are saying Ben Carson—who officially ended his presidential campaign last Friday—is the next failed candidate to endorse Trump.
The report comes from the Washington Post according to Mashable. The sources who talked to the Washington Post reportedly chose to remain anonymous.
The endorsement is set to be made tomorrow at Trump's Mar-A-Lago Club in Palm Beach, Florida. Mashable reports Trump released information about a press conference happening Friday, but no other details were provided. 
Trump destroyed Carson on the campaign trail last year calling him a "loser" and comparing his temper to "child molestation" (because both don't have a cure). The two would later become chummy and Carson would even say he'd be open to being Trump's vice president. Maybe this is Carson's way of buttering up Trump. 
The two racists agreed on their xenophobic beliefs which targeted Muslims. Trump's proposed a Muslim ban while Carson has said Muslims should not be president.
In case you forgot Carson tried to stab a guy, was caught lying about a West Point scholarship, and once put out this incorrect map of the United States.