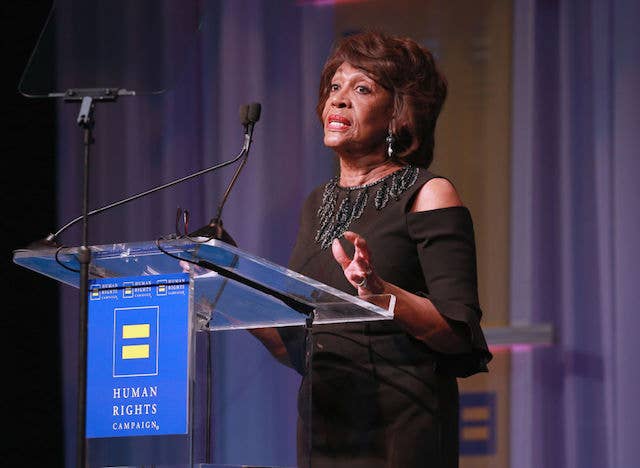 Auntie Maxine never fails to stick up for herself.
During a campaign rally in Pennsylvania on Saturday, one of Trump's many disturbing, misogynoir-driven remarks included claiming Democratic Congresswoman "reclaiming-my-time" Maxine Waters has low intelligence.
According to CNN, Trump called Waters out on her comments to impeach him: "Did you ever see her? Did you ever see her? 'We will impeach him. We will impeach the president.'"
Fortunately enough, Waters already had a message prepared for Trump. Refinery29 reports that Waters called the President "one of the most dishonorable, deceitful, and despicable people ever to hold public office" during the Human Rights Campaign's annual Los Angeles Dinner on Saturday night. She mentioned his injustices against the LGBTQ community, Puerto Rico, and sexual violence survivors.
Plus, she clapped-back during an interview with Joy Reid on MSNBC.
"He is expert at name-calling," Waters explained on air Sunday morning. "I understand that, in addition to continuing his name-calling of me, referring to my IQ and calling me 'low IQ,' he continued to attack Elizabeth Warren, Nancy Pelosi, maybe made some reference to Oprah Winfrey and on and on and on. It seems that he's identifying and picking up more and more women that he's attacking. Again, I expected this, though."
Waters isn't the only Black woman Trump has went after recently. He welcomed Oprah Winfrey as an opponent during the next presidential election. In fact, he even mentioned he'd "love it" if she ran, half-jokingly.
During the same speech, Trump continued to make crude comments against drug dealers and suggested they face the death penalty.
And how could that be all? Deadline also reports that Trump also revealed his 2020 campaign slogan: "Keep America Great!" Spoiler alert: America was never great.