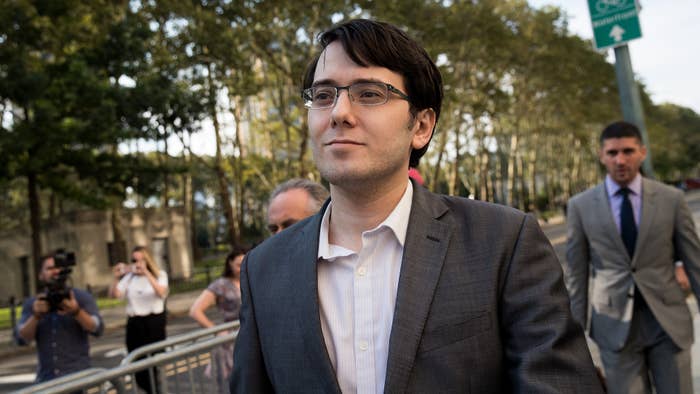 New details about Christie Smythe's relationship with Martin Shkreli have come to light.
In a new interview with The Times, the journalist recalls events leading up to and during her romance with the pharma bro. "I don't think I was attracted to him initially," she admitted to the publication. "Well, maybe. It was more of a curiosity. I was not thinking about him as a romantic subject." 
However, that all changed. Smythe revealed that she didn't show up to her first marriage counseling session with her husband, Devin Arcoleo because she was visiting Shkreli in prison. She had started seeing him in prison in late 2017.
"I didn't count the minutes—he did," she said of her husband, describing how she was 52 minutes late to the hour-long appointment. "We still went to marriage counseling later and it was a disaster, of course. Nothing was counseled."
In 2018, Smythe left her husband and her job at Bloomberg to start anew with Shkreli, who had just been sentenced to seven years in prison for securities fraud. 
"I was feeling extremely frustrated by having to keep everything bottled up," she said. "I was just, like, 'Everyone is so worried about what? That I will fall in love with him?' After that thought sunk in, I was like, 'You know what, maybe I do love him—screw everyone.'"
However, when Smythe went public about their relationship in an interview with Elle, Shkreli's response was less than lukewarm. "Mr. Shkreli wishes Ms. Smythe the best of luck in her future endeavors," Shkreli said in a statement to the magazine. 
Still, Smythe came to Shkreli's defense, even after The Times article went live. "If you say all people deserve second chances and a shot at redemption EXCEPT Martin Shkreli (or except whomever the internet has decided to hate at a given moment), you really don't mean that," she tweeted on Sunday.
Shkreli was released from prison in May, almost three years before his original release date. He's now carrying out the remainder of his sentence at a halfway house in New York.