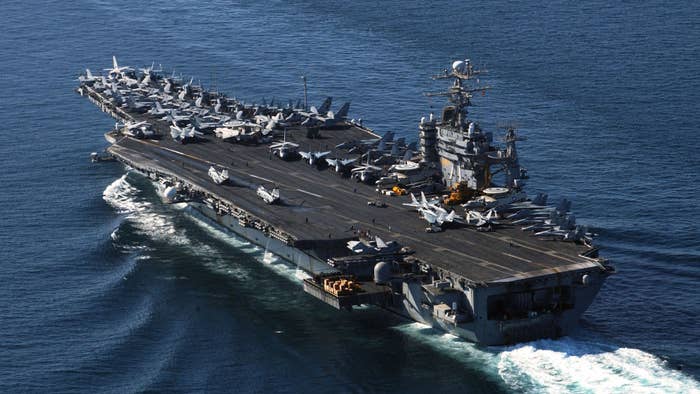 Acting Navy Secretary Thomas Modly has offered his resignation after calling ousted Capt. Brett Crozier "stupid" for speaking on his ship's coronavirus outbreak.
During an address to the ship USS Theodore Roosevelt, Modly attacked Capt. Brett Crozier who had begged the Navy for more resources to treat a COVID-19 outbreak on the ship, which is now docked in Guam, Vice News reports. Modly subsequently asked Crozier to step down as captain after the letter leaked to the San Francisco Chronicle.
"If he didn't think, in my opinion, that this information wasn't going to get out into the public, in this day and information age that we live in, then he was either A, too naive, or too stupid to be a commanding officer of a ship like this," Modly said on the ship's PA system.
On Monday, Modly apologized for his comments in a statement and said he didn't actually think Crozier is stupid.
Modly thought Crozier might have purposely allowed the memo to leak to the media since the letter wasn't sent via secure channels. Crozier had written to Navy officials, pleading for help to contain the virus on his ship. He asked that his 4,000-plus crew be allowed to self-isolate on land since there wasn't enough space for sailors to properly quarantine on the ship. The outbreak has now grown to 150 crew members since Monday.
"This will require a political solution but it is the right thing to do," Crozier wrote in the memo. "We are not at war. Sailors do not need to die. If we do not act now, we are failing to properly take care of our most trusted asset—our Sailors."
"Due to a warship's inherent limitations of space, we are not doing this," Crozier continued. "The spread of the disease is ongoing and accelerating."
Crozier is still in the Navy, even though he is no longer the ship's captain. When he left the USS Theodore Roosevelt for the last time on April 2, his crew applauded him. Defense Secretary Mark Esper later acceptedModly's resignation. "He resigned of his own accord, putting the Navy and Sailors above self so that the U.S.S. Theodore Roosevelt and the Navy, as an institution, can move forward," Esper said, per CNN. "His care for the Sailors was genuine. Secretary Modly served the nation for many years, both in and out of uniform. I have the deepest respect for anyone who serves our country, and who places the greater good above all else. Secretary Modly did that today, and i wish him all the best."