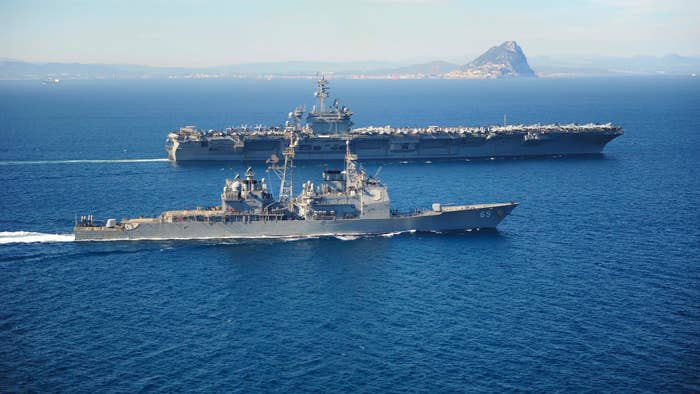 The U.S. Navy has dismissed a ship commander who had raised the alarm about a coronavirus-stricken ship.
Navy Secretary Thomas Modly announced Thursday that Capt. Brett Crozier's was relieved of his duty on the USS Theodore Roosevelt, which had at least 114 confirmed cases of COVID-19. According to a leaked letter obtained by the San Francisco Chronicle, Crozier had urged Navy leadership to take "immediate and decisive" to protect 4,800 service members who are aboard the ship.
"This will require a political solution, but it is the right thing to do," Crozier wrote in his memo seeking an evacuation of the aircraft carrier. "We are not at war. Sailors do not need to die. If we do not act now, we are failing to properly take care of our most trusted asset — our sailors."
Days after the letter was published by the Chronicle, Modly told reporters Crozier had been relieved because he "demonstrated extremely poor judgement" during the crisis, "misrepresented the facts," and created a "firestorm" by sending the letter to "20 or 30 other people."
"Today at my direction the commanding officer of the USS Theodore Roosevelt, Capt. Brett Crozier was relieved of command," Modly said during a Pentagon press briefing. "I have no doubt in my mind that Capt. Crozier did what he thought was in the best interest of the safety and well being of his crew. Unfortunately it did the opposite ... We have the proper way of handling this. What he did by doing this and not being careful with who that information went to ... that's just not acceptable. He did not take care."
Modly added he was not suggesting Crozier leaked the letter to the media: "It all came as a big surprise to all of us that it was in the paper, and that's the first time I had seen it."
According to Business Insider, about 2,700 sailors will be evacuated from USS Theodore Roosevelt in the upcoming days. The service members will be quarantined in Guam, where the carrier is docked, as they undergo testing. Modly said 114 sailors had tested positive for COVID-19 as of Thursday.
As Capt. Crozier was removed from his post and leaving the USS Roosevelt on Thursday night, sailors on the ship cheered and chanted for him.
Videos show sailors sending off ousted USS Roosevelt commander with cheers: US Navy relieved the captain who sounded the alarm about a coronavirus outbreak aboard the ship -

@eslavin_stripes pic.twitter.com/l2QnwtOiIa
After hearing the news of his dismissal, people took to social media to praise Capt. Crozier and decry the decision to relieve him of duty.
You can see some reactions below.
Captain Crozier was faithful to his duty—both to his sailors and his country. Navy leadership sent a chilling message about speaking truth to power. The poor judgment here belongs to the Trump Admin, not a courageous officer trying to protect his sailors.

pic.twitter.com/AkGFdlYjwt
Outrageous. Navy Captain Crozier was relieved of his command of USS Roosevelt for blowing whistle on Coronavirus threat onboard. He put his sailors first, and Trump put his ass out. Shameful!

Where is the outrage from all those "pro-military Republicans"?

pic.twitter.com/ixRYxocOZc
Every American should watch this video. This administration Captain Crozier for doing his job and protecting the sailors on his ship. We need to fire this administration in November for putting self defense above the defense of our country.

pic.twitter.com/AKJVUYlKET
Captain Crozier will sleep well tonight. There is nothing like knowing you did the right thing. Righteousness is not for the weak.

https://t.co/Zvab81oFjy