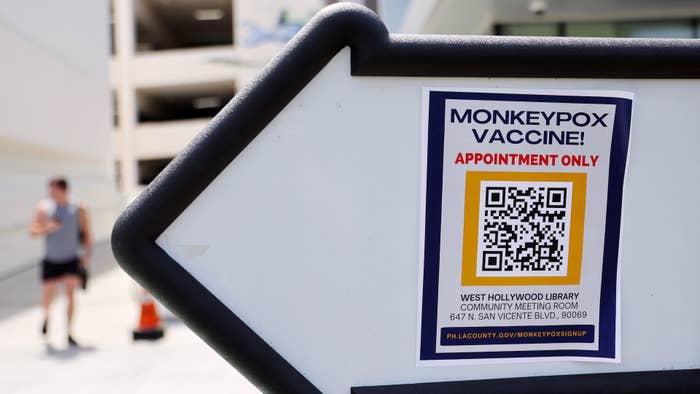 The Biden administration has declared monkeypox a national health emergency.
Health and Human Services Secretary Xavier Becerra announced the news Thursday, after lawmakers in New York, Illinois, and California made similar declarations on the state level.
"We are prepared to take our response to the next level in addressing this virus and we urge every American to take monkeypox seriously," Becerra said during a press briefing, as reported by NPR.
The "health emergency" designation is expected to significantly ramp up the government's response to the ongoing outbreak, which has resulted in at least 26,200 monkeypox cases worldwide. The United States has reported more infections than any other country, tallying more than 6,600 as of Thursday, according to the Centers for Disease Control and Prevention. Cases have been reported in 48 states as well as Washington, D.C. and Puerto Rico. New York accounts for a quarter of those cases.
According to the CDC, the virus can spread through skin-to-skin contact, as well as touching surfaces that have been used by someone who is infected with monkeypox. Symptoms include everything from a rash and fever to muscle aches and respiratory issues, such as a cough or sore throat. Nearly all reported monkeypox cases (99 percent) in the U.S. so far have been among men who have sex with other men, and the CDC cautions that 1.7 million men who have same-sex relations are at the highest risk.
The Biden administration has faced mounting backlash for its handling of the outbreak, as the nation has failed to keep up with the soaring demand for vaccines and diagnostic tests. Thursday's declaration could accelerate the distribution of treatment drugs, permit health agencies to collect more data about the outbreak, as well as free up emergency funding that can go toward medical supplies, equipment, and the hiring of additional medical workers.
The World Health Organization declared monkeypox a "public health emergency of international concern" nearly two weeks ago. The designation was previously used for some of the most serious global outbreaks, including Zika, polio, Ebola, and COVID-19.