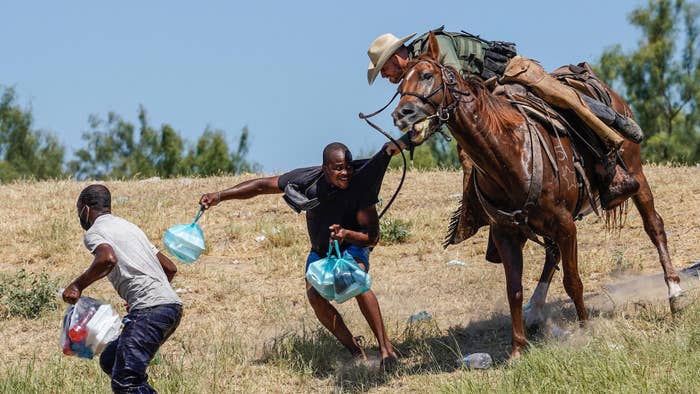 Four border patrol agents are facing disciplinary action for their response to a migrant surge last year.
U.S Customs and Border Protection announced the move in a statement on Friday, following a 10-month investigation. Officials say the incident took place on Sept. 19, 2021, in Del Rio, Texas, where a group of horse-mounted agents "used force or the threat of force" in an effort to drive Haitian migrants back into the Rio Grande River.
Photos of the confrontation showed agents riding patrol horses as they seemingly swung reins at the migrants. The CBP's 500-page report states there was no evidence that any of the agents used the reins to strike the migrants, but investigators concluded the agents acted inappropriately by yelling insults and profanity at the Haitians.
President Joe Biden slammed the Border Patrol agents for their actions last year, reassuring the public that those involved would face consequences. 
"I promise you, those people will pay," POTUS said at the time. "There will be an investigation, underway now, and there will be consequences. There will be consequences. It's an embarrassment, but beyond an embarrassment, it is dangerous. It's wrong, it sends the wrong message around the world, it sends the wrong message at home. It's simply not who we are."
The report also found the Border Patrol agents were following orders from the Texas Department of Public Safety—orders "that directly conflicted with U.S. Border Patrol operational objectives."
"Failures to maintain command and control over Horse Patrol Units, lack of appropriate policies and training, and the overall chaotic nature of the situation at Del Rio at the time contributed to the incident," CBP Commissioner Chris Magnus said during Friday press conference. "Several agents engaged in unprofessional or dangerous behavior, including one instance in which an agent used denigrating and offensive language.
"We have already begun making changes to address agency shortcomings identified in the report, including revising the policies and procedures for utilization of horse patrol units, strengthening command and control during large-scale operations, and development of new trainings."
According to the New York Times, the four agents are now on administrative duties. Magnus did not specify what kind of action the agents may face.