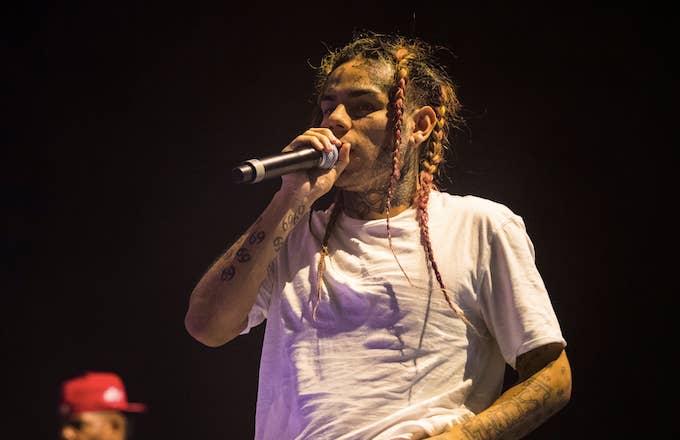 An eighth suspect in 6ix9ine's federal racketeering case has been identified.
On Thursday, New York officials unsealed a Nov. 19 indictment against Aaron Young, aka "Bat," a purported member of the Nine Trey Gangsta Bloods street gang. According to legal documents obtained by Complex, Young is accused of participating in Nine Trey's illegal operations, which included armed robberies and narcotics trafficking in the NYC area. 
Per the indictment:
The defendant, and others known and unknown, intentionally and knowingly did combine, conspire, confederate, and agree together and with each other to violate narcotics laws of the United states. It was part and an object of the conspiracy that [Young] ... would and did distribute and possess with the intent to distribute controlled substances.
Young and 6ix9ine's co-defendants are Jamel "Mel Murda" Jones, Kifano "Shotti" Jordan, Jensel "Ish" Butler, Fuguan "FuBanga" Lovick, Faheem "Crippy" Walter, and Roland "Ro Murda" Martin.
It's unclear why Young's indictment was initially hidden from the public; however, it was likely due to the fact that the man was a fugitive up until this week.
According to ABC affiliate WNEP, Young was arrested Wednesday in Scranton, Pennsylvania on drugs, racketeering, and weapons charges. The 38-year-old suspect was transported to a U.S. Courthouse in Manhattan for arraignment. It's probable that the New York wanted Young's indictment sealed so that he wouldn't be tipped off, and waited to make his charges public until he was in custody.
In other 6ix9ine-related news, Texas authorities have issued an arrest warrant for the controversial rapper, as he failed to appear in court. 6ix9ine—legal name Daniel Hernandez—is currently in federal custody in NYC for the aforementioned racketeering charges. TMZ reports the scheduled hearing was for 6ix9ine's alleged assault on a 16-year-old boy back in January. The 22-year-old rapper was filmed grabbing Santiago Albarran's neck during an altercation at a Houston mall. 
Albarran has seemingly made up with 6ix9ine in recent months, and reportedly submitted an affidavit calling for the assault to be dropped.