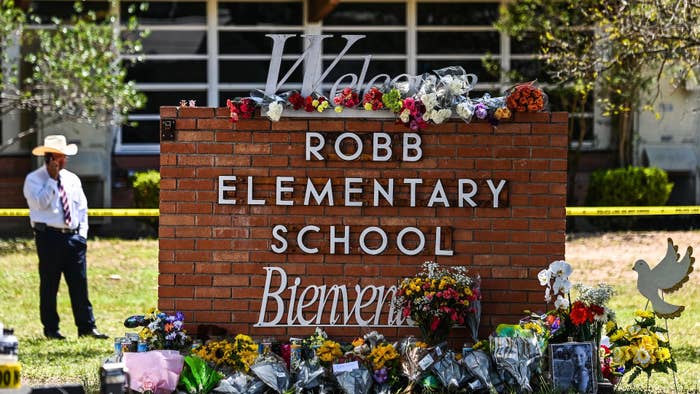 A Republican congressman is receiving backlash over his baseless, dangerous claim about the Uvalde school shooter.
As pointed out by Mashable, Arizona Rep. Paul Gosar took to Twitter on Tuesday night to propagate a far-right theory about Salvador Ramos, the 18-year-old gunman who killed 19 children and two teachers Tuesday at Robb Elementary in Texas. Gosar described the suspect as a "transexual leftist illegal alien named Salvatore Ramos"; however, Texas officials have since confirmed Ramos was not an undocumented immigrant, but rather a North Dakota native who moved to the Lone Star State with his family. There's also no evidence that the gunman was transgender, as some on the far-right have claimed.
Gosar deleted the tweet Tuesday and has yet to publicly address the criticism it generated.
The trans theory began circulating on 4Chan's "Politically Incorrect" channel, where users posted photos of trans women and falsely identified them as the Robb Elementary school shooter. One of those women was 22-year-old New Yorker Sabrina, who shared multiple photos of herself to prove she was not Ramos.
Georgia resident Sam found herself in a similar situation in wake of the deadly school shooting. The 20-year-old trans women told NBC News her photos were also being used to spread the theory that Ramos was transgender. 
"This isn't the first time I was harassed," she said, "but it is the first time I've been accused of murder [...] Transphobic people exist and people are quick to blame someone for terrible things instead of looking for the truth about what actually happened."
Just like Sabrina, Sam also attempted to clear her name with photographic evidence.
"This has GOT to stop," tweeted trans advocate Erin Reed. "A sitting congressman just spread a lie about the Texas shooter to pin it on transgender people spread by troll sites, in a state where they are spending more time banning trans kids than they are spending regulating guns.'
The Uvalde shooter was fatally shot by police after he opened fire in two adjoining classrooms. Authorities continue to investigate the incident and have yet to confirm a motive; however, Texas Gov. Greg Abbott told reporters Wednesday the shooter was arguing with his grandma on the morning of the attack. At one point during the altercation, Ramos allegedly shot his grandmother and then took her car to Robb Elementary to carry out the attack.